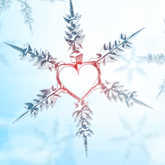 Winter Love Horoscopes 2012-2013
Lovers generate heat as we move from 2012 into 2013

Baby, it's cold outside! This winter however, you can anticipate plenty of body heat between you and someone special.
A rare, sizzling mutual reception between Mars in Aquarius and Uranus in Aries will boost your sex life between December 27 and February 2. If you're typically shy in the bedroom, don't be shocked if you're suddenly in the mood to spice things up!
Winter receives an indulgent, romantic welcome on December 21, as Venus and Jupiter oppose one another. These two planets make love sweeter -- even if they go overboard as they prompt you to express affection.
See what's in store for your love life with a Relationship Potentials Astrology report, then read your sign's forecast to learn more about whether someone will melt your heart or leave you out in the cold.
Aries (March 21 - April 19)
Love is an adventure! You're likely to feel as if your potential for romantic fulfillment is one giant open road as winter begins. If you're single, a sudden encounter with a friend or someone introduced to you through a friend may leave you breathless between December 27 and February 2. What starts out as a fun, "no strings attached" winter romance may turn into something more after a heartfelt conversation with your lover on February 6. Attached Aries, you'll find it easier than usual to bare your soul to your partner. You'll feel especially well connected with your mate on January 16 and 17.
Taurus (April 20 - May 20)
You may begin the season with a restrained attitude about love, but don't let this bring you down. You're in the process of defining what you truly want in a committed partnership. What are you willing to compromise in order to enjoy a stable relationship? Where will you never settle -- even if it means going it alone for a while? Fortunately, Saturn's presence in your partnership sector these days is well supported, and the potential for you to find that everlasting love has never looked brighter. On January 16-17 you'll feel as if you and a current mate are on solid ground, and by March 7 you'll be willing to expand your horizons on relationship enough to see the big picture.
Gemini (May 21 - June 20)
Once Jupiter turns direct in your sign on January 30 your optimism about personal and romantic endeavors will be in full swing. A committed relationship will enjoy special harmony until January 9, thanks to Venus' tour in your partnership sector. Then, from January 10 through February 2 you'll enjoy a boost in intimacy. Love may border on obsession near January 16, however, due to an intense link between Venus and Pluto in your 8th House of Depth. Remember that love is not about control; it's about relating to and honoring your mate for who he or she already is. If you try to force your partner to conform to your expectations, a battle of the wills may erupt. Fortunately, it will smooth over quickly. Single Gemini, you may begin a new romance with someone who has a background quite different from yours near February 6. Ooh la la!
Cancer (June 21 - July 22)
With Saturn touring your 5th House of True Love, you might worry that you'll be stuck feeding off stale crumbs this winter when it comes to love. Don't despair! In fact, Saturn may help you find your one true love now. Saturn will receive incredible support from love planet Venus on January 17. Because Venus will be in your partnership sector from January 10 until February 2, an existing partnership will become more harmonious and durable. If single, a new romantic prospect will ripen during this time and may become serious faster than you expect. Go with it. This winter you're not playing games when it comes to love. You're playing for keeps.
Leo (July 23 - Aug. 22)
Leo, you'll begin the season with incredible powers of attraction thanks to Venus touring your true love sector until January 9. You might receive even more attention from potential suitors than usual, and of course you'll cherish every drop! One lucky person, however, is likely to stand out from the crowd and you'll want to give this special someone your full consideration. Attached? Expect sparks between you and your mate from December 27 through February 2, as Mars tours your relationship sector. While it's true that you might pick a few more fights than usual, it'll all be in good fun. You might even do it for the pure pleasure of making up in the bedroom afterward! Venus in your relationship sector from February 3 through February 26 will help smooth out any wrinkles in your love life. By the New Moon on February 10 you'll have a fresh start in partnership.
Virgo (Aug. 23 - Sept. 22)
A series of errors in how you communicate with your partner might frustrate you both during Mercury Retrograde from February 23 through March 17. Fortunately, Venus and Neptune will embrace in your relationship sector on February 28, adding potential for the best possible outcome. Still, if your mate is behaving in a way that appears too good to be true around this time, it's conceivable that you're not seeing the full picture. Thankfully, you'll have the cosmic lovers -- Mars and Venus -- both in your relationship sector between February 27 and March 13, motivating you to swim past murky waters. In fact, March 6 might be a day of incredible harmony. You'll have enough perspective about your love for each other to turn the page in a happier direction.
Libra (Sept. 23 - Oct. 22)
Expect romance to sizzle this winter! Cosmic lovers Mars and Venus will each take a turn touring your true love sector, assuring that your libido will get a wakeup call. From December 27 through February 2 you'll have Mars, the planet of passion, helping you have more fun in bed. A sexual adventure with a friend is possible. Alternatively, you might enjoy a casual sexual encounter with someone you don't intend to have a relationship with. Love will eventually catch up to you, however, because from February 3-26 you'll have Venus in this area of your chart. You may develop feelings for that one night stand after all! You may also find that more than one person is after you, and if so you'll have a difficult time choosing who to give your full attention to. In the end, the one who will win your heart will be original in his or her pursuit and will remember to give you plenty of breathing room.
Scorpio (Oct. 23 - Nov. 21)
Is love real or is it only an illusion? You'll find out this winter, as several key planets will tour your romance sector starting on February 1. Because they are all in idealistic Pisces, you might discover that instead of a prince or princess you've been kissing a frog. Of course, you may also realize that this love is the most inspirational and enchanting experience of your life. You may, indeed, feel convinced that you've found the ultimate soul mate. During Mercury Retrograde in your 5th House of True Love from February 23 through March 17, you'll have an opportunity to sort this out in your mind. By winter's end, one way or another, you will know if it's love or if you've only been dreaming.
Sagittarius (Nov. 22 - Dec. 21)
A close relationship that's going well is about to get even better this winter. Jupiter, the planet of expansion and abundance, will turn direct on January 30. Because Jupiter is in your partnership sector, you'll notice an instant difference in the yumminess factor between you and your mate. You might even decide to make a commitment to someone special and move in together, become engaged or even marry! If you're single, expect sparks to fly between December 27 and February 2, when Mars and Uranus engage in a rare mutual reception. Because Uranus is in your 5th House of True Love and Mars will be in your 3rd House of Community, a sizzling romance might develop between you and a neighbor!
Capricorn (Dec. 22 - Jan. 19)
You might think it'll be a long, cold and lonely winter. Well, you're wrong. From January 10 until February 2, you'll be the most alluring sign in the zodiac thanks to Venus moving through Capricorn. During this time you'll have a special way of attracting attention to others and your confidence will enjoy a much needed boost. This special vibe of inner and outer beauty that you'll emanate will certainly help you attract romance, so be sure to socialize as much as possible during these weeks. In fact, on January 16 you're likely to experience a fated romantic encounter with someone who will leave you breathless. Expect to feel devoured by love.
Aquarius (Jan. 20 - Feb. 18)
Seriously, Aquarius, this winter you have won the jackpot of love! On January 30, Jupiter, the planet of "all good things" will turn direct in your 5th House of Love and Pleasure. Jupiter only tours this part of your chart once every 12 years and it's one of the most opportune times to find true love. Now that Jupiter will be strong and direct this winter, there is nothing to stop you from melting the heart of someone special. In fact, Venus will be in your sign from February 3-26, making you completely irresistible! A perfect link between Venus and Jupiter on February 7 promises romance with all the trimmings, and you may want to celebrate Valentine's Day early. This winter it might be cold outside, but it doesn't matter. Your heart will be on fire.
Pisces (Feb. 19 - March 20)
Sex appeal will be your middle name this winter! The cosmic lovers -- Mars and Venus -- will both tour your sign. Mars will give you plenty of stamina and enhance your sex drive from February 3 through March 12, while Venus will offer you a dose of beauty and charm from February 27 through March 22. During the early part of March, when both planets are in your sign, there will be no stopping you from getting whatever your heart desires. Adding to the mix, on March 1 Venus will embrace Neptune, offering four-star potential for an enchanting romance to bloom. You'll exude sensitivity and warmth to others, and by March 7, when Venus, Saturn and Pluto connect, you might have found the love of a lifetime.
Get key dates for love with a Relationship Potentials Astrology report »