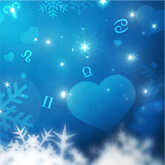 Winter Love Horoscopes 2013-2014
Keep your love life burning strong during winter 2013 - 2014!
We love to get warm with a sweetie during winter, and this one is almost perfect for patient people. New relationships can take some time to heat up with amorous Venus turning retrograde on December 21. This alluring planet's reversal period lasts until January 31, making this an excellent period to make repairs in your current relationship. Getting clearer about what you want with Venus in responsible Capricorn might not sound sexy, but could provide the magic to revive passion with your partner or put you on track to connecting with someone new.
Taking that first step toward addressing a problem or breaking the ice may be done cautiously with supposedly aggressive Mars on his best behavior in super polite Libra. Signals could be misread when we're so concerned about rubbing someone the wrong way, which is why clarity is a must. Strong desires expressed graciously are bound to overcome obstacles and soften the hardest hearts. And to see how your birth chart looks for this coming winter, try running a Big Picture Love Forecast!
Aries (March 21 - April 19)
The good news this season is that your passionate planet Mars is in your 7th House of Partners all winter, increasing your chances for making romantic connections. The bad news is that it's in restrained Libra, which can slow down your pursuit of pleasure. Dealing with indecisive people or having to tiptoe around someone's sensitivity could put a damper on spontaneity. But in exchange for having less dramatic encounters you should be more strategic in going after who and what you want. Just be charming and considerate of others and you'll be amazed at how a seemingly cool relationship can turn into a very hot one.
December ends on a passionate note with intense Mars aspects from December 25 until the New Year. Yet even if you miss opportunities to play then, Mars forms sexy squares with his alluring partner Venuson January 16 and March 2 that should spice up your personal life when the mood could change from feisty to flirty in an instant, transforming a moment of conflict into one of sweet delight.
Taurus (April 20 - May 20)
Expecting more from your relationship life might be exactly how you need to think to make sure that get what you want this winter. Your lovely ruling planet Venus is in serious Capricorn where she rewards you for having ambitious plans but could leave you out in the cold of disappointment if you settle for less. This serious sign rewards you for aiming high and being persistent in pursuit of your personal goals. Putting in more effort will get you more joy from your current partnership or open to door to someone new.
Venus' transit is in your 9th House of Travel, which helps you to find love when you're out of town or connecting with people from different cultures. It can take more time than usual to warm up with the love planet in such a serious sign, yet slowing down and enjoying the process of seduction will make it even more satisfying. Being respected, and being with someone you respect doesn't sound erotic, but could be keys to building and maintaining the passion you seek.
Gemini (May 21 - June 20)
You are very likely to have the magical support of sexy Mars to keep your romantic life active this winter. This passionate planet settled into your 5th House Self-Expression on December 7 and, lucky you, will stay there until next July. Getting attention comes more easily with this extra long transit, increasing your opportunities for making connections. In fact, you could be so desirable that your challenge will be about making choices among potential partners.
If you're in a relationship, it's a signal that you can recover the fun and feelings that attracted you two to one another in the first place. Normally aggressive Mars is in cool and gracious Libra, allowing you to take the initiative in personal matters without coming on too strong and to skillfully back out of commitments that no longer touch your heart. The last week of December could be a little edgy with power struggles a possibility, but applying your considerable social skills can calm even the tensest situations as you head into the New Year rich with promise for partnerships and pleasure.
Cancer (June 21 - July 22)
Expect more activity in your personal life with the energizing Sun occupying your two primary houses of partnership from December 21 to February 18. Although this is meant to increase your confidence and creativity, you might be tempted to step back and let others take the lead. This is not recommended because your chances for getting the love and affection you want increase when you're running the show.
The Sun in authoritative Capricorn until January 19 says that you need to be the boss unless you want to be bossed around. Taking charge in relationships isn't about being a bully, but is about you being clear about your expectations and commitments. Sure, you can be sweet and accommodating, but only after you've established some rules. This is followed by a solar shift into cool Aquarius and your 8th House of Intimacy, which begins a month of emotional experimentation. Attraction to an unconventional person or seeking more space in your current partnership will surprise you by showing that the freer you feel the safer it will be to get closer to someone.
Leo (July. 23 - Aug. 22)
Work is likely to take precedence over romance until the Sun enters your 7th House of Partnerson January 18. This solar shift into quirky Aquarius reduces your sense of social pressure, allowing you to feel at ease with unusual people and in unpredictable situations. Being more playful and relaxed in your current relationship or with someone new means that you don't have to put on a show to be loved. By keeping connections friendly you're free to enjoy the moment without worrying too much about the future.
But if you're missing the passion and drama that often comes with romance, you are likely to find it starting on February 18 when the Sun enters super sensitive Pisces and your 8th House of Intimacy. It's a great time to surrender to your most tender emotions and plunge into feelings that melt any barriers with others. While it's true that you could get lost in romantic fantasies during the subsequent 30 days, the delight of merging your body, mind and soul with a caring and compassionate individual could almost seem like finding heaven on earth.
Virgo (Aug. 23 - Sept. 22)
Winter begins with the solar move into responsible Capricorn on December 21, which is also when the Sun starts its 30-day stay in your 5th House of Romance. It's time to take charge of your personal life by initiating contacts and organizing activities. As long as you don't come across as too bossy you're planning and determination can restore excitement to an ongoing alliance or open the door to a new one.
On January 18 the Sun floats into brainy Aquarius and your 6th House of Work. Romantic feelings could be aroused by an intellectual person, even if his or her ideas are very different from your own. This transit occurs in your 6th House of Employment, which can attract you to someone at work. What starts out as a professional relationship with a colleague could turn into something much more personal. Strong differences of opinion and belief systems may not sound like a reason to get closer to a person, but clashing ideas could, strangely enough, lead to a deeper emotional connection. As long as you're respectful of one another and share the same overall goal, the results could be delicious.
Libra (Sept. 23 - Oct. 22)
You could be running hot and cold in your approach to relationships this season. Whether it's your own emotional changes or outside circumstances that are shifting from passion to indifference, this is likely to be a period of extremes. Your amorous planet Venus turns retrograde in serious Capricorn on December 21, which can slow down progress in your personal life and, perhaps, revive interest in someone from your past.
The pace should pick up again when she returns to forward motion on January 31, but a major boost in pleasure and popularity starts when Venus enters friendly Aquarius and your 5th House of Romance on March 5. But even while you're waiting for this sexy transition, energetic Mars is in your sign until July. Its presence in Libra and your 1st House of Personality could spark impatience or a sudden attraction, yet it also provides you with the motivation to take the initiative in relationships. The best part is that your ability to be pushy in polite ways lets you take the lead with the one you're with or pursuing someone new without appearing overly aggressive.
Scorpio (Oct. 23 - Nov. 21)
Winter starts with a bang as your traditional ruling planet Mars blasts into explosive aspects with volatile Uranus on December 25 and intense Pluto on December 30 that can rock your world. Breaking free from restrictive situations is a possible benefit, but holding onto resentment and failing to make your position clear will slow down your love life in the New Year. So the key to making this a season of romance comes from taking a step back from your emotions and looking at your situation with a little bit of logic.
Yes, you may have to make some compromises, but a good friend will provide the advice and support you need to handle intense issues in a calm and cool manner. Besides, you don't need to attract a lot of attention to get what you want now. Quiet, behind-the-scenes connections could be especially delicious. On February 18 the conscious, creative and confident Sun starts a 30-day visit to your 5th House of Romance. Just add a big dose of imagination, a pinch of idealism and a dash of compassion to make some loving magic happen.
Sagittarius (Nov. 22 - Dec. 21)
Work comes before pleasure early this winter. It starts with the Sun in responsible Capricorn and your 2nd House of Worth where you can build your self-confidence and increase your appeal to others. Commitment to developing your talents and taking care of your body will have a major impact on your desirability, so make them your priorities. The Sun's shift into friendly Aquarius and your chatty 3rd House on January 18 lightens your mood and increases your chances to connect with people. This is an easygoing transit that encourages conversations and attracts interesting individuals. You may need some variety, though, to get your emotions flowing.
If you have a partner, look for some new interests to restore passion to your lives. If you're single, exploring different groups and organizations could lead to meeting someone new. Your tender side starts showing as of February 18, a time when you may be less interested in going out with friends and more satisfied staying home with one caring person. If you trust someone, don't be shy about showing your soft side since sharing this kind of sensitivity invites intimacy.
Capricorn (Dec. 22 - Jan. 19)
The season starts out slowly as the love planet Venus stops dead in its tracks on December 21. This retrograde turn occurs in Capricorn, which can encourage you to step back from a relationship. You don't have to end a partnership, if you have one, but it's certainly a time to review and rethink your commitment to it. By January 31, when Venus goes forward again, you should be totally clear about what you want. If you're single, this reversal period is useful for reconnecting with an old lover and getting sentimental about the past.
Making adjustments to your appearance and approach to romance are excellent ways to use this transit. The Capricorn New Moon on January 1 joins transformational Pluto, reminding you to let go of beliefs, behavior and people that aren't helping you find happiness. Even if you're feeling edgy around the Full Moon on January 15, be patient and trust yourself to make responsible romantic decisions. Sexy Venus-Mars squares on January 16 and March 2 can arouse your desires and might even turn a disagreement into an erotic connection.
Aquarius (Jan. 20 - Feb. 18)
You might feel like you're being left out of the fun when winter starts. The life-giving Sun and romantic Venus are both in serious Capricorn and your 12th House of Invisibility then. Getting attention isn't easy, but you might enjoy more private time for yourself or to share with one undemanding individual. Being less direct about expressing your desires makes sense until the solar shift into Aquarius and your 1st House of Personality on January 18. That should increase your confidence and visibility, but there still may be unfinished relationship business that keeps you from getting exactly what you want.
Working to please yourself, though, is a good way to ensure happiness and make you more desirable to others. Then, on March 5, the love planet Venus glides into your friendly sign to give you more sparkle and appeal. People are likely to notice and appreciate you then with new forms of fun and stimulation arriving on the 18th. A favorable alignment between alluring Venus and your innovative planet Uranus makes this a time of unusual pleasures and unexpected joy.
Pisces (Feb. 19 - March 20)
A key relationship theme for you this season is the ongoing need to keep negotiating with others. Sure, you're more inclined to find agreement with people, to keep your mouth shut or just to walk away from the situation. However, putting in the effort to discuss and debate difficult issues is worth the effort. Passionate Mars is in Libra and your 8th House of Intimacy where it rewards you for diplomatically stating your case, listening to what others say and coming up with a compromise to keep your connection alive and healthy.
This can also be a seductive transit as you're ability and instinct to charm almost everyone you encounter is strong. Of course, that could send out misleading signals, so be clear about your intentions and behavior to avoid attracting someone who doesn't really appeal to you. The Sun's entry into your sign on February 18 will provide you with more confidence and creativity, which will make you more visible to others. This can give you extra energy to put into your current relationship or provide the will to pursue a new one.
See the ups and downs of your love life through all of 2014 with your Big Picture Love Forecast! »