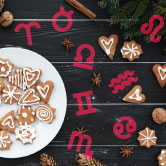 Winter Love Horoscopes 2016-2017
Will romance warm your heart this winter?

This winter starts off with enchanting romantic prospects. Venus moving through tender Pisces from January 3 - February 3 allows unconditional love to flow seamlessly in your relationship. You'll see the best in one another on January 12 when Venus and Neptune embrace.
Mars enters Aries on January 28, then Venus follows suit on February 3, and love potential goes from sweet to spicy! Enjoy it while it lasts because Venus turns retrograde on March 4, putting a damper on everyone's love life for the rest of the winter and into early spring.
See what ALL of 2017 holds for your love life with your personalized 1-Year Love Astrology Forecast now!
Learn more with your sign's Winter Love Horoscope below...
Aries (March 21 – April 19)
What do you really want Aries? This winter you'll have an opportunity to consider answers to this question in just about every aspect of your life, but none more important than in matters of the heart.
Venus and Mars both move into your sign by early February. The good news is that this is when you'll feel empowered to go after what you want most in life and love. Venus will turn retrograde however, in your sign on March 4, and remains backward until April 15. Lessons in love that you thought were processed now require an overview. And what you thought you wanted? Well, you might have second thoughts.
Taurus (April 20 – May 20)
Make the most of your romantic prospects early this winter, because after March 4 you might not be a happy camper. Until then, though, you will have an edge in social enjoyment. As a result, if single you'll have an easy time meeting and mingling with dating prospects. If you are in a relationship, you and your lover will feel as if things are almost too good to be true.
Once Venus turns retrograde on March 4, however, it'll be clear that any issues you've been trying to sweep under the rug will require attention. You can't keep moving forward if you're stuck in the past, and this Venus retrograde cycle will force you to handle wherever you might be stuck.
Gemini (May 21 – June 20)
If you're getting involved romantically with a friend this winter, you may want to take things slow. Although from February 3 - March 4 the two of you may absolutely sizzle together, after March 4 it's likely that you'll be second-guessing the relationship.
Perhaps you both rushed into things too quickly and weren't considering the implications your hook-up would have on your friendship and mutual social circle. Although the romance can still blossom, you might encounter resistance from other friends accepting your connection. Alternatively, it's possible that by the end of winter you're not as happy together as you started out. You'll have to be honest about your feelings. If you're unsure, take the time to figure it out.
Cancer (June 21 – July 22)
A memorable romantic winter is possible if you and your sweetheart can manage to get away together and travel abroad. A dream vacation anytime from January 3 - February 3 will not only bring you closer together emotionally, but it'll also help enhance your spiritual bond. If you're single, this stretch of time is ripe for you to meet someone who can teach you a great deal about life and love. Be open to his or her differences and before you know it, you may fall head over heels in love.
After March 4 when Venus turns retrograde, you might not have much time for romance. You'll be reviewing career goals, so do what you can to enjoy your prospects during the first half of winter.
Leo (July 23 – Aug. 22)
This winter, if you're in a relationship you and your partner are sure to enjoy a lovely financial boost from January 3 - February 3. Your mate could receive a generous raise at work, and if so, you'll certainly benefit from the enhanced cash flow.
Another possibility is that you're in a fairly new relationship and have decided to pool your resources together in order to split bills or make an investment. This decision to move forward in your partnership will be a good one, so don't worry yourself over the details.
If you're single, don't begin a serious new relationship after March 4, when Venus is moving retrograde. Wait until after April 15, and in the meantime, slowly get to know anyone you meet.
Virgo (Aug. 23 – Sept. 22)
Your love life will be incredibly sweet between January 3 and February 3 if you're in a relationship. You and your partner will enjoy an extra phase of harmony and affection that will surely enhance your bond. In fact, you might have the most inspiring soul mate experience together near January 12, when Venus and Neptune embrace in your relationship sector.
If you are dating someone it's possible that January 12 is when you'll realize you've found "the one," and want to make a stronger commitment. Act before March 4. After that Venus will turn retrograde and you'll be busy reconciling finances with your mate and fixing any past mistakes either of you made in the past relating to money.
Libra (Sept. 23 – Oct. 22)
An office romance might blossom from January 3 - February 3. If you meet someone in your workplace with whom you share incredible chemistry, be sure to explore the potential during this time. You might feel a deep emotional and spiritual connection to your new love interest -- especially near January 12.
If you are married or in a partnership already, after March 4 there's some work to do. Venus will retrograde in your relationship sector, prompting you and your mate to work through any tangles in your connection. You might also go back to revisit whether or not the relationship is still meeting your needs. This is important, so don't try to sweep anything under the rug. You'll only choke on the dust.
Scorpio (Oct. 23 – Nov. 21)
If you're single, you'll have the most delicious vibes possible for love from January 3 - February 3, when Venus tours your romance sector. This will be a time where you can meet someone who makes you feel like you've stepped into the pages of a storybook romance. A true love fairytale is possible, and you might fall for someone with whom you share a deep spiritual connection.
Pay attention to your heart on January 12 -- it might take you to the most incredible place. If you're in a relationship, this might be a time where you and your partner feel the initial sparks of dating and falling in love all over again. Beautiful! In other news, avoid any tempting office romance after March 4. It'll only lead to heartbreak.
Sagittarius (Nov. 22 – Dec. 21)
You'll enjoy nesting more with your lover from January 3 - February 3. The two of you might be setting up house together, and if so, you'll find it easy to agree on decorating ideas and budget. Another possibility is that you and your sweetheart will introduce each other to your respective families for the first time during early winter. If so, everyone will get along beautifully.
After March 4 your love life could become messy. Venus will retrograde in your romance sector, and it's possible that an old flame will come back into your life asking for a second chance. Or you might be second guessing a current relationship. Following your heart won't be easy -- at least not until you honestly re-evaluate what it needs.
Capricorn (Dec. 22 – Jan. 19)
Communication between you and your lover will be extra sweet from January 3 - February 3. The two of you might make a decision about your relationship or about a financial matter. Happily, it'll be easy for you to reach an agreement you're both pleased with.
On January 12 you and your lover might exchange the most heartfelt sentiments with one another. You'll feel deeply touched by your partner's words during this time.
After March 4 Venus will be moving retrograde, and you might have some trouble agreeing with your partner about how to move forward with a home renovation. Try not to spend major money or make a significant decision until after April 15. One of you is likely to regret it. Your sex life takes on a whole new life starting March 9, though. Enjoy the enhanced libido!
Aquarius (Dec. 22 – Jan. 19)
Winter love might be quiet for you this time around, but that doesn't mean you won't have certain moments of excitement. Most notably will be a gorgeous Lunar Eclipse that'll fall in your partnership sector on February 10. This eclipse is likely to bring you and your mate deep emotional fulfillment. You might seal a commitment to each other during this time. Or, it's possible that something will happen to draw you closer to each other.
On March 4 Venus will turn retrograde in your communication sector. You and your lover might have to rethink a decision about money or your relationship. Don't stress -- it's not going to hurt either one of you to communicate honestly about your individual needs now. In fact, it's essential.
Pisces (Feb. 19 – March 20)
You're in the most enviable position when it comes to love from January 3 - February 3, when Venus tours your sign. You'll not only look more beautiful and feel more confident, but this attitude and vibe will surely translate into more attention. If you're single, expect at least one notable romantic prospect. In fact, pay close attention to January 12 when Venus and Neptune embrace -- this will be an ultra-romantic day! If you're already in a relationship, your lover will show you plenty of appreciation and kindness. Enjoy every drop!
Starting March 4 Venus moves retrograde in your earned income sector. You'll be focused more on money matters than love for the rest of the winter.