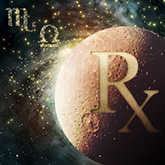 Mercury Retrograde Horoscopes for October 2014
Fall turns on its head as Mercury travels backward in Scorpio and Libra

Ready or not: Brace yourself for the last Mercury Retrograde cycle of 2014. This time around Mercury will backpedal through two signs, offering us an opportunity to re-evaluate more than one area of our lives. He'll start his retrograde at 2 degrees of Scorpioon October 4. On October 10 he'll re-enter Libraand remain there until turning direct on October 25 at 17 degrees.
If used effectively, this cycle can lead to revised thought processes that ultimately empower you. Still, with Mercury out of phase, it's possible that you'll experience the usual frustrations connected to the trickster planet moving backwards. These include miscommunication, misunderstanding, delays in travel, and all sorts of hiccups with electronic devices, appliances or cars.
Find guidance and understanding for whatever Mercury Retrograde brings your way with an insightful Celtic Cross Tarot reading.
Read your sign's Mercury Retrograde horoscope to learn how you can maximize the benefits of this important cycle while minimizing the hindrances.
Aries Horoscope (March 21 - April 19)
From October 4 - 10 you might encounter extra aggravation in a financial situation. If, for example, you're considering applying for a loan there might be a delay in paperwork. You might also discover discrepancies in accounting and if so, you'll need to contact your accountant ASAP! Between October 10 and 25 Mercury travels retrograde through your 7th House of Relationships. If you and your mate haven't been on the same page lately, it'll be even more difficult to make a vital decision. Agree to disagree.
Taurus Horoscope (April 20 - May 20)
Mercury turning retrograde in your 7th House of Relationships on October 4 doesn't have to be such a bad thing. You'll have an opportunity to revise your method of communicating with a close partner (business or personal), ultimately improving it. In fact, a gorgeous Solar Eclipse is due to hit the same area of your chart on October 23, along with your ruling planet Venus. It looks like the work you put into a relationship during the days Mercury is out of phase will more than pay off. From October 10 - 25 Mercury will help you make much needed improvements on how you organize your schedule and workload.
Gemini Horoscope (May 21 - June 20)
You might spend your time between October 4 and October 10 re-evaluating anything and everything connected to your health. A series of miscommunications with doctors or other health care providers may leave you frustrated, but this aggravation can be the impetus for you to make certain changes that have been long overdue. Between October 10 and 25 you might feel blocked in a creative project. Take time to revise work that you already have out there instead of starting anything brand new. If you notice misunderstandings between you and a child or sweetheart, be patient. Always give the one you love the benefit of the doubt.
Cancer Horoscope (June 21 - July 22)
Don't be surprised if you're thinking more about your romantic history than its future between October 4 and 10. With Mercury traveling retrograde in your 5th House of Romance during those days, it'll be tempting to get out old love letters or look up your exes on Facebook. In some cases, it's possible that you'll rekindle an affair with an ex. Is it a good idea? You'll know after October 25. Between October 10 and 25 you'll be wrapped up in family drama. It might be difficult to get all of your relatives to agree with each other about a major decision that'll affect the entire clan. Weigh the pros and cons and take a group vote. Being fair to everyone involved is your best option.
Leo Horoscope (July 23 - Aug. 22)
Are you confused about whether or not you should move? If so, now is not the time to make a final decision. Between October 4 and 10 Mercury will retrograde in your 4th House of Home and Family. This will be the worst possible time to sign new agreements connected to real estate or family matters. You should use this cycle for research instead. Ask plenty of questions about prospective neighborhoods or buildings. Clarify co-op or condo regulations. Then, make your decision after October 25 once clarity returns. From October 10 to 25 Mercury will retrograde through your 3rd House of Communication and Messages. Save yourself a headache; don't sign anything.
Virgo Horoscope (Aug. 23 - Sept. 22)
You might feel like a giant ball of confusion between October 4 and 10 when Mercury retrogrades through your 3rd House of Communication. Be gentle with yourself if you have a hard time assimilating new learning material or holding your own in conversations that require a sharp, alert mindset. Don't sign any new contracts, but do take the time to look over existing agreements and to ask plenty of questions about anything vital you need to make a decision on. Between the October 10 and 25 Mercury will move backward through your 2nd House of Money. This will be an ideal time to revise your budget. Even if you think it's polished, there's probably room for improvement.
Libra Horoscope (Sept. 23 - Oct 22)
At first, when Mercury turns retrograde you might focus more on setting yourself straight about which talents of yours are really worth developing. You might feel a sense of confusion about whether or not a certain ability is real or if you're merely fooling yourself into believing it's so. Use the days between October 4 and 10 to trust your instinct on this matter. Then, from the 10th until the 25th Mercury will retrograde through your zodiac sign. You might come across in a way that is challenging to understand. You're not trying to be difficult but you may vacillate more than usual in your opinions or with decisions. Remember: It's your prerogative to change your mind. Just do so only after you're fully informed about the facts.
Scorpio Horoscope (Oct. 23 - Nov. 21)
If you're second guessing yourself more than usual between October 4 and 10 don't worry -- you're not losing your mind. Mercury will be retrograde in your zodiac sign during this time, prompting you to revise how you portray your ideas and your image to others. This can be a good thing, especially if you want to remake yourself. In fact, a promising Solar Eclipse in Scorpio on the October 23 suggests a major new beginning is in store. Don't be afraid to make a dramatic change; it all starts with your mind. From the 10 to 25 Mercury will retrograde in your 12th House of Privacy. You'll need extra time alone to sort through whatever incorrect, self-destructive script you've been reciting in your head for way too long. Delete it.
Sagittarius Horoscope (Nov. 22 - Dec. 21)
Between October 4 and 10 you may have a breakthrough in therapy. If you've been working through any difficult emotional patterns or trying to heal from anxieties or past traumas, there's every indication that during these days you'll have a light-bulb moment that ultimately sets you free. Then, after the between October 10 and 25 Mercury will retrograde through your 11th House of Friendship. You may reconnect with pals from your past -- possibly as far back as your childhood! Avoid launching a new website or social media project during this time, but do make any revisions on anything already up on the Web.
Capricorn Horoscope (Dec. 22 - Jan. 19)
You might decide to rejoin an organization or group that you ended an affiliation with in the past. Perhaps you'll run into an old pal from this clique, and after reminiscing with him or her about old times decide that it's time to reconnect with the entire group. With Mercury retrograde in your 11th House of Groups and Friendship between October 4 and 10, this will be only one example of what's likely to occur relating to your social life. This will also be a good time to revive one of your greatest aspirations that you put on the backburner for "one of these days." That time is now. Then, between October 10 and 25 Mercury will backtrack through your 10th House of Career. Avoid new decisions about your profession. If there's a vital meeting scheduled with your boss, clarify your words. He or she may misread your messages.
Aquarius Horoscope (Jan. 20 - Feb. 18)
You may run into one of your old bosses or another authority figure connected to your career past between October 4 and 10. Use this meeting to help you clarify whether or not you're on the right path these days, or if some adjustments are needed. This person may be able to help you move past any confusion. Then, between October 10 and 25 Mercury Retrograde will hit your 9th House of Higher Learning and Mind Expansion. You may decide to go back to school to study for an advanced degree, or to finish one you dropped in the past. This will also be a great time to tie up any old legal situation, or to reconnect with your faith.
Pisces Horoscope (Feb. 19 - March 20)
As Mercury begins his retrograde on October 4, you might question your spirituality more than usual. Use the time until the 10th to review your beliefs and consider whether or not your religion or faith needs any recalibrating. Then, after between October 10 and 25 Mercury will have you rethinking finances. You might feel a sense of frustration over delays in paperwork or communication connected to investments, loans or taxes. Use this time as an opportunity to review paperwork to ensure everything is copacetic on your end. Make peace with the fact that what you're trying to accomplish might take longer than usual. After October 25 you'll understand that it was worth the wait.
A Celtic Cross Tarot reading will help guide you through Mercury's mishaps »