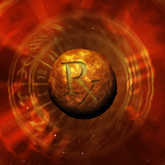 Mercury Retrograde Horoscopes
The trickster planet spins back through Sagittarius and Scorpio

Mercury is never bashful about spoiling our plans for transactions, travel and communications to operate in a smooth and delightful manner. This time Mercury goes retrograde on November 6, 2012 -- Election Day -- and yes, that could spell some confusion and miscommunication surrounding our latest attempt to elect a leader!
Mercury will begin its backward journey in Sagittarius and move back into Scorpio on November 14, so it will move from perhaps the most honest and direct of signs to the most dark, confusing and often deceptive one!
You can cut some of the confusion with advice from a Celtic Cross Tarot reading. And Mercury won't go direct until November 26, so read your Mercury Retrograde horoscope below to find ways of coping and to identify the kinds of lessons you might learn.
Aries (March 21 - April 19)
Mercury will move backward through your 9th House of Higher Mind and then into your 8th House of Mystery, Sex and Intimacy. Start off the retrograde period by letting your curiosity lead you to topics involving philosophy, knowledge and potential travel. You paint your life with the broadest of strokes, but even after learning facts and figures, there will be more that you won't want to miss. A secret could come out around November 14 and reveal a key piece of information. Expect non-verbal communication to play a big role in your happiness through the rest of the month. This could mean some extra-hot moments will come your way! You could enrich and deepen your friendships, too.
Taurus (April 20 - May 20)
This Mercury Retrograde will be all about relationships. If you're already involved, you'll want to explore just how close "too close" is, as Mercury goes back through your 8th House of Intimate Connections and your 7th House of One-on-One Interactions. Your current partner may need to branch out and spend more time outside your own little world. If you're single, someone you used to love might contact you and want to stir up the sands to see if you can still get some juices flowing. The way you handle situations such as this will depend on how well you can appreciate the give-and-take of being with another person -- and whether or not you think you can really stand to go it alone.
Gemini (May 21 - June 20)
You might need to juggle your involvement in a certain relationship with your need to take the best possible care of your body and your psyche. Because Mercury will begin its retrograde in your 7th House of Partnerships, you'll have endless conversations with your love match, work partners and close friends about the boundaries of your relationships. Later, as your 6th House of Daily Routine and Health becomes affected, you could become more self-oriented. Strive to achieve a balance that lets you take excellent care of yourself, while also sharing in the joys of life with a friend, a colleague or a delicious lover.
Cancer (June 21 - July 22)
When Mercury moves back through your 6th House of Physical Stamina and your 5th House of Fun and Diversion, you might think any surge in energy you achieve through good eating and exercising habits warrants a return to a second or third childhood. It's true that you like to "mother" others, but there's also some part of you that would love to opt for regressing back to being a helpless infant. It can be fun to try to return to a more youth-oriented lifestyle, but unless you can truly keep up with a regimen that has you working all day and partying until late at night, you could definitely wind up crying and whining -- a lot!
Leo (July. 23 - Aug. 22)
You might start out thinking about ways of diverting your thoughts through books, TV, movies and other entertainment while Mercury retrogrades back through your 5th House of Amusement. Pick up that novel you started at the end of the summer, or make that call that leads to a date with someone you promised you would call. By the time mid-November arrives and Mercury hits your 4th House of Foundations, you'll get more nostalgic for your past, and perhaps far less anxious to look for the nearest thrill and chill. Someone you've loved from the time you were a child could comfort you even more than before.
Virgo (Aug. 23 - Sept. 22)
Your home and belongings might be the things that are most affected as Mercury Retrograde begins its travels through your 4th House of Domestic Life and Security. Lost keys, appliances on the fritz and difficulty reaching family members might be among your travails. Things will get even more hairy as the mirthful little trickster of a planet moves into your 3rd House of Communication on November 14. While this is a great time to do some writing, you need to be acutely aware of how your words and gestures might be interpreted. You could also find there are delays and obstacles when you try to get from one place to the other.
Libra (Sept. 23 - Oct. 22)
Mercury will move from your 3rd House of Communication and Connections and into your 2nd House of Money during its retrograde, so pay close attention to how the connections you make relate to your monetary wellbeing. Also, be very wary about using electronics when they involve financial transactions. There's always that looming possibility of being hacked; but under these circumstances your carelessness can be your own undoing. Make sure you check "submit" when you pay your credit card bill on line, for one thing! Also, keep your mind open to suggestions that could come from old friends who might also be highly qualified financial advisers.
Scorpio (Oct. 23 - Nov. 21)
While you might start the Mercury Retrograde period paying attention to your money, due to its presence in your 2nd House of Assets, you will finish it by taking a long and strong look at yourself. It's not that financial matters are unimportant. But when you get a deep enough examination of the things you have, you might come to the conclusion that no matter how wealthy or prosperous you are, the material world leaves you feeling empty. After Mercury encourages soul-searching and reflection as it hits your 1st House of Persona and Character, you'll learn a lot about the things that really matter to you.
Sagittarius (Nov. 22 - Dec. 21)
You might have some fabulous, visionary ideas as this whole retrograde thing starts out, because Mercury will be in your 1st House of Public Image. One moment you will feel brilliant and articulate, as you always are, but before long you might come across a crisis of confidence that arises out of a fear that you're not as smart as you thought. Spend the time while Mercury is in your 12th House of Contemplation getting in touch with your inner motivations. When you examine your soul and find it to be pure, you'll be ready to share your ideas with renewed faith that, no matter what, you're doing what you do with intentions that are pure and good.
Capricorn (Dec. 22 - Jan. 19)
You probably need time to reflect on how you can bring more balance to your life, and thanks to Mercury moving backwards through your 12th House of Inner Awareness, you'll almost be forced to stop rushing through life and listen to the inspiration whispering to you from the deepest realm of your consciousness. If you don't meditate now, it might be a good time to start. One of the things you might discover could be how important it is to give to your community. When Mercury slides back into your 11th House of Groups, an opportunity you passed up before could give you one more chance to become more actively involved and make a difference.
Aquarius (Jan. 20 - Feb. 18)
You like to think you're here on Earth for the purpose of serving the world and making it a better, brighter place. As Mercury Retrograde begins in your 11th House of Common Experiences and Communal Awareness, opportunities that might have been impossible to seize in the past could be within your grasp. While you need to give things a try, don't expect it to all move smoothly. Besides, Mercury's slide into your 10th House of Status and Fulfillment in mid-November will remind you that if you keep diluting your influence by volunteering far too much of your time, you won't serve yourself the way you must if you hope to be able to help anyone else.
Pisces (Feb. 19 - March 20)
Opportunities from the past could arise when Mercury Retrograde hits your 10th House of Status and Achievement. Be prepared to make a significant decision, but don't make any moves until after the retrograde period is completely over. The retreat of the planet that helps you think and develop your opinions into your 9th House of Research and Knowledge will help you gather the information you need to make a totally informed choice. Without the certainty that you've turned over every rock there is to move, you won't achieve the level of security and sanity you need in order to be truly happy.
Cut through Mercury Retrograde confusion with a Celtic Cross Tarot reading »