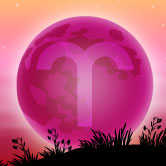 New Moon in Aries Horoscopes
A big, new cycle starts at April's New Moon

Every New Moon is the beginning of another emotional cycle, but the New Moon in Aries on April 7, 2016, has special significance because Aries is the first sign of the zodiac. This lunation is like a second New Year's Day -- a time to set priorities and make commitments. Paradoxically, Aries is a season-starting sign, and not known for its ability to follow through with promises. However, creating a ritual can reinforce our intentions, even if we simply take a few minutes out of our busy day to envision the year ahead.
How lunar cycles work in Astrology:
Expressing ourselves freely at this New Moon seems like a smart plan until we inadvertently offend a coworker or a friend. Messenger planet Mercury is activated by Mars at this New Moon, charging our words with power, releasing intense feelings, and helping to clear the air. However, the impulsive Aries New Moon joins with explosive Uranus and squares ruthless Pluto too, increasing the need to check in with the opinions of others. We can accidentally hurt someone if we're too wrapped up in our own lives. Taking the time to consider other people's perspectives prevents unnecessary drama before it grows out of hand.
Find guidance for all your new endeavors with a Mandala New Beginnings Tarot reading now!
Learn more about the impact of this New Moon now with your sign's New Moon Horoscope below...
Aries Horoscope (March 21 - April 19)
You could believe your perceptions are so accurate that you don't want to bother consulting anyone else. Unfortunately, you might know the risks and take foolhardy action anyhow with the New Moon falling in your impetuous sign. Rather than making pompous gestures based on incorrect assumptions, ask others what they want first and then take their ideas to heart. Feedback from someone you trust can help you make a positive breakthrough in your own behavior. An open mind is the doorway to personal growth.
Taurus Horoscope (April 20 - May 20)
You may head into work with a secret, but it's not likely that you will keep it to yourself for long. The Aries New Moon blesses your 12th House of Imagination, so you tend to focus on your inner world more than the events of the day. Nevertheless, the expressive Aries energy continues to push outward, motivating you to expose what was hidden. Decide in advance how much you want to share and then adhere to the limits you set. Balancing these contrary forces cultivates trust.
Gemini Horoscope (May 21 - June 20)
Hanging out with friends sounds like a fine idea while the rowdy Aries New Moon activates your 11th House of Social Networking. However, you can't escape your commitments just to goof off. Thankfully, you should be able to enjoy yourself as long as you get your work done first. Taking the easy way out will not be as rewarding as you might expect. You'll like who you see in the mirror more if you deliver on your promises with a smile.
Cancer Horoscope (June 21 - July 22)
It's a challenge to rein in your professional impulses while the enterprising Aries New Moon energizes your 10th House of Career. But telling everyone how to run the show isn't such a smart move. You can talk about your life, career goals and plans for the future, yet your message might not align with your heart. It's not that you are misleading anyone on purpose; it's just that you are experiencing ambivalence. Let your emotions continue to settle naturally without trying to push your agenda. Opportunity often arrives in a fog of uncertainty.
Leo Horoscope (July 23 - Aug. 22)
Your lion-like roar might be quite ferocious as the expressive Aries New Moon fires up your 9th House of Opinions. Emotions are even tilted farther out of line when the Moon bumps into difficult aspects with suspicious Pluto and stern Saturn. Nevertheless, there's no reason to worry about what may happen down the road, because you don't have all the information at your disposal yet. Ironically, the whole story will come out later if you don't dig too hard for the answers.
Virgo Horoscope (Aug. 23 - Sept. 22)
It's time to discuss the larger issues that are often set aside in the name of getting things done in the present moment. But even if you can't find the answers you seek while the Aries New Moon rattles your 8th House of Hidden Motives, just talking about your goals may be of great value. Open communication is not only the way into a deeper relationship; it's also the way out of your current dilemma. As author Jack Canfield wrote, "Each day is an adventure in discovering the meaning of life."
Libra Horoscope (Sept. 23 - Oct. 22)
You are the partnership people of the zodiac and you tend to have a magical touch with those around you. Fortunately, you can happily accommodate the needs of others, especially while the ardent Aries New Moon is heating up your 7th House of Companions. However, your perceptions are so sharp that separating your own feelings out of the mix might be tricky. Don't minimize your desires for the sake of harmony; taking good care of yourself enables you to be emotionally available to nurture those who need it.
Scorpio Horoscope (Oct. 23 - Nov. 21)
If you recently fell short of your own expectations at an attempt to make changes in a diet or exercise program, it's time to try again while the Aries New Moon is pressurizing your 6th House of Routine. Although you may be tempted to experiment in a radically new way, don't lose sight of your goals. Stay focused on your destination to minimize the distractions and keep on track. Making small healthy adjustments leads to lasting positive results. A butterfly needs to grow wings before it can take flight.
Sagittarius Horoscope (Nov. 22 - Dec. 21)
You can take your productivity to new heights, especially if you find the maturity to capture your brilliance instead of squelching it. But the red-hot Aries New Moon's presence in your 5th House of Self-Expression does not offer a practical strategy to success. Nevertheless, stick with your innovative ideas when sharing your plans with others. Ultimately, an emotional disclosure may simply be the catalyst that gets you where you wanted to go all along. As Picasso wrote, "The chief enemy of creativity is good sense."
Capricorn Horoscope (Dec. 22 - Jan. 19)
If you have been wrestling with problems on the home front, everything may appear to be improving. Thankfully, going to work takes the pressure off your personal concerns for a while. However, the Aries New Moon agitates your 4th House of Roots, reminding you that the family dynamics will likely be waiting for you whenever you choose to return. Set your caution aside and delve into the issues at hand. Your good intentions and sincere efforts won't go unnoticed by those who matter most.
Aquarius Horoscope (Jan. 20 - Feb. 18)
Your life is bursting at the seams, overflowing with a variety of things to do and people to see. All this noise is amplified by the polarization of the independent Aries New Moon in your 3rd House of Information, making it difficult to settle into the serious work in front of you. It really doesn't matter if you can't envision the outcome. Just jump in and do your best. Good fortune may be delayed but, luckily, it's still on the horizon.
Pisces Horoscope (Feb. 19 - March 20)
People can observe your confidence in action, but, ironically, you might feel as if you're standing on shaky ground. Unfortunately, the Aries New Moon rocks your 2nd House of Personal Values, so the current situation grows even worse when you project an air of false optimism. Instead, just be honest. It's best to let others know if you are experiencing uncertainty beneath your sunny veneer. Ultimately, everyone involved will breathe a sigh of relief once the truth is out in the open.
Take your first step now with a Mandala New Beginnings Tarot reading »