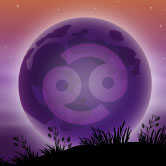 New Moon in Cancer Horoscopes
July's New Moon brings nourishment

Retreating from the outer world sounds great while our emotional sensitivity is accentuated by the New Moon in Cancer on July 4, 2016. The Moon's natural affinity to the sign of the Crab, along with the warm company of friendly Mercury and loving Venus, strengthens this nurturing moment. This New Moon's trine to surreal Neptune enables us to withdraw into our imaginations. However, an opposition to unrelenting Pluto makes escaping from family obligations difficult.
Although we are challenged by a lack of objectivity around this New Moon, intellectual Mercury's presence in sensitive Cancer encourages us to analyze our feelings. Still though, we might have trouble verbalizing our needs while Mercury forms an irritating aspect to authoritative Saturn, inhibiting us from revealing our inner world for fear of judgment. We are more concerned with establishing emotional security than possibly upsetting the status quo. Nevertheless, this first New Moon of summer nourishes all forms of life and supports growth, making this the perfect time to tend the plants in the garden of love.
A Timeline Tarot reading can help you see what this New Moon can do for you personally ... right now, and in your future!
Aries Horoscope (March 21 - April 19)
Being in close contact with your family and friends ranks as a top priority. Although the heat of summer lures you out into the sunshine, the Cancer New Moon draws you into your inner world as it waters your 4th House of Roots. Renew links to your past and rejuvenate relationships with your kin to reaffirm your connection with your soul. Never forget, the love of your tribe is one of life's greatest blessings.
Taurus Horoscope (April 20 - May 20)
You may feel isolated even in the midst of your loved ones if they disagree with your thinking on a sensitive subject. Your fear of being vulnerable is triggered by the timidity of the thin-skinned Cancer New Moon that accentuates your 3rd House of Communication. Meanwhile, pensive Mercury bumps into naysaying Saturn, reminding you that putting your feelings out in the open isn't always the best idea. The quieter you are, the more you can hear.
Gemini Horoscope (May 21 - June 20)
You might be so concerned about your finances that you seek ways to limit your expenditures. You're even more eager for change in money matters when the security-conscious Cancer New Moon lands in your 2nd House of Personal Resources. Unforgiving Pluto's opposition to this lunation could mean that you're hitting a financial wall, so don't be afraid to put all your marbles on the table. You may need to reorganize debt or renegotiate a partnership before you can cash in on this potentially lucrative transit. Anything is possible when you take ownership of your life.
Cancer Horoscope (June 21 - July 22)
Complex emotions and shifting circumstances require you to take a stand as you try to restore order in your personal life. Your dreams may seem endearing to others, prompting you to say what you want, even if it's more than you previously intended to share. Thankfully, the cautious Cancer New Moon falls in your 1st House of Personality, encouraging you to withdraw into the security of your emotional shell. Use this time for constructive self-reflection instead of worrying about what others think.
Leo Horoscope (July 23 - Aug. 22)
An emotional interaction grows stressful if someone criticizes your disclosure without really listening to the meaning behind the words. In your current vulnerable state, you don't necessarily want to share more details about your inner process. Fortunately, you can make excellent use of the hypersensitive Cancer New Moon in your 12th House of Endings by letting go of your past. Even if you don't feel the support from others, stand by your decisions, knowing that transformation will soon follow.
Virgo Horoscope (Aug. 23 - Sept. 22)
Your friends are intrigued by the mysterious quality of your plans because they can't tell whether or not you are actually being serious. Although the Cancer New Moon harmonizes with nebulous Neptune, it's imperative to let others know where they stand by stating your intentions as clearly as possible. This lunation plants a seed of intention in your 11th House of Dreams, but it's up to you to nurture the seedling to fruition over the weeks ahead.
Libra Horoscope (Sept. 23 - Oct. 22)
You can't decide whether to fully immerse yourself in the social activities of the day or to run from them. Naturally, being around friends and family can be revitalizing to your spirit, but conflict in communication makes the interpersonal dynamics tense. Fortunately, the caring Cancer New Moon falls in your 10th House of Public Life, allowing you to mend hurt feelings and set positive intentions for the future. Love conquers all.
Scorpio Horoscope (Oct. 23 - Nov. 21)
Sometimes it's wiser to carefully step around a patch of stinging nettles instead of plowing directly through them. The needy Cancer New Moon emphasizes your 9th House of Big Ideas, but its opposition to powerful Pluto is a reminder to rein in your emotions while you still can. Applying self-discipline gets you further than allowing irrational feelings to dictate your behavior. A moment of consciousness saves days of regret.
Sagittarius Horoscope (Nov. 22 - Dec. 21)
You are at your best when you're able to communicate exactly how you feel. However, it's more problematic when your emotions are buried so deeply that they can't make it to the surface. Fortunately, the protective Cancer New Moon directs your attention to your 8th House of Shared Experiences, which makes listening just as important as speaking. But this is a time to heal wounds and talking about your relationship issues only takes you so far. Thankfully, you also can benefit from giving and receiving the kind of love that requires no words.
Capricorn Horoscope (Dec. 22 - Jan. 19)
Your ambitions might conflict with the aspirations of someone close to you and the resistance you face could impede your progress. You may choose to withhold your feelings while the cautious Cancer New Moon highlights your 7th House of Others. However, disclosing your thoughts won't complicate your road to success as much as keeping them to yourself. Ultimately, it's the things left unsaid that create heartaches later on.
Aquarius Horoscope (Jan. 20 - Feb. 18)
Your plans for the future may seem a bit removed from reality, but integrating your dreams into every little action sets the stage for your success. Ultimately, you may fail unless your objectives are aligned with your highest ideals as the meticulous Cancer New Moon in your 6th House of Self-Improvement aligns with spiritual Neptune. Many trivial issues demand your attention, but it's crucial to leave time for reassessing your long-term goals. As author Washington Irving wrote, "Great minds have purpose, others have wishes."
Pisces Horoscope (Feb. 19 - March 20)
Your big heart and tender spirit shine brightly, eliciting warm encouragement from everyone you meet. Activities involving children should go well since you know how to act like a kid, provided it's within safe and reasonable limits. Happily, the emotional Cancer New Moon stirs your 5th House of Love and Play, making this a great opportunity to express your creativity and get noticed without looking needy. But in your haste for personal satisfaction, don't avoid the challenges of the day; your commitment to overcoming obstacles inspires others at the same time.
Get a Timeline Tarot reading now for more details about this pivotal moment »