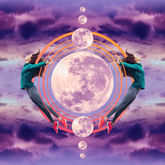 New Moon in Capricorn Horoscopes: Make It Real
Read your sign's horoscope for the New Moon in Capricorn now!

The Capricorn New Moon on January 16, 2018, may be seen as the true harbinger of the calendar year, offering you an opportunity to ritualize your resolutions and recommit to your goals. To be crystal clear, nothing is granted by cosmic luck with this rare convergence of six Capricorn planets spinning in the galaxy, so prepare yourself for a battle of persistence and a pile of work. If you are not passionate about your goal, then tap out now before the real test begins. But once you commit to a sustainable strategy and perform at a certain level of excellence, the rewards are likely to follow, and the one that will matter most is your sense of achievement.
Practical magic
Establish ambitious patterns for the year ahead to make the most of this Capricorn New Moon's pragmatic energy. This cosmic no-nonsense recipe for success includes copious amounts of drive, discipline, and determination. A Mars-Jupiter conjunction in relentless Scorpio adds passion to the sauce as well as a giant splash of idealism, and unconventional Uranus just wants to stir the pot. There is a hint of emotional healing, personal transformation, and spiritual epiphany in the mix, but you might miss it if you are too busy focusing on your aspirations.
Being more responsible, respectable, and reliable in your deeds and words advances your agenda and validates your integrity. Annual resolutions come and go; some are forgotten as soon as they are spoken. But you can always resolve to be resolute in striving to be your best self. Embrace your ambitions and pursue your purpose, but continue to choose humility and kindness in all you do. Intention plus hard work equals magic.
Discover your opportunities for ultimate success now with a Money & Business Potentials Tarot Reading.
Craft your ambitious Capricorn New Moon resolutions with careful consideration. Reading your horoscope for your Moon sign as well as your Sun sign offers you another layer of insight (if you don't know your Moon sign, your free Cosmic Profile here will tell you!).
Aries Horoscope (March 21 - April 19)
Blazing your own trail allows you to execute an ambitious but sustainable strategy, and still maintain your reputation as a bit of a maverick. The good news is you possess all the resources you need to climb to the top of the mountain. The bad news is your unwillingness to listen to anyone else could send you on a wildly unnecessary detour during this Capricorn New Moon. Reckless acts of rebellion throw you off track, but they could be a sign you are uncertain of your destination. Check to make sure your heart is in it to win it or you might be scaling the wrong rock.
Taurus Horoscope (April 20 - May 20)
Be careful what you wish for now since your dreams are within your grasp if you're willing to put in long hours of sweat and sacrifice. Your personal magnetism grows as you get a chance to show how you can take an idea and build it from the ground up into something very real. Returning to school or embarking on an adventure are no longer mere fantasies if you establish a methodical plan to make it happen during this ambitious Capricorn New Moon. A cosmic crash course on self-discipline is likely now, but overindulgence is overrated anyway. Luckily, determination is your middle name.
Gemini Horoscope (May 21 - June 20)
Your flimsy excuses and clever justifications aren't likely to fool anyone who knows you well -- and fleeing for the nearest exit will only provide temporary retreat during this serious Capricorn New Moon. Avoidance tactics just won't work when relationship issues are on the table and your integrity is on the line. Sticking it out when the going gets a little rough demonstrates your willingness to commit to the process while the cosmic energy is more responsible than romantic. Don't run off to chase glitter when there is gold to be found by digging in your heart. If you are unsure of what you want, now is the time to sort it out.
Cancer Horoscope (June 21 - July 22)
You Moon-centric Cancers know better than anyone that relationships require commitment if you want the bonds of trust and intimacy to take root. Caring for those in your close circle is serious business now, and your quiet strength is appreciated more than you know during this dutiful Capricorn New Moon. Wrapping others in an emotional security blanket comes naturally, but are you getting the same yummy benefits in return? Re-establishing your relationship priorities is the first step to figuring out what you want. It could be the very thing you are searching for is missing in yourself. Look deep in the eyes of love and don't flinch from your reflection.
Leo Horoscope (July 23 - Aug. 22)
Your colorful creativity may feel stifled by too many chores and commitments. You can't help but wish you were anywhere else but your current location when you suddenly realize your routine is more work than play these days. Your list of self-improvement resolutions exhausts you before you run your first mile or bike your first hill. Quit whining and appreciate life's little blessings during this methodical Capricorn New Moon. Start healthy habits and create positive patterns to manifest success in all your endeavors, big and small. You might have to change your outlook before you can change anything else.
Virgo Horoscope (Aug. 23 - Sept. 22)
Your productivity is purring, and you delight in seeing your creative ideas take tangible form. An earthy magic keeps your elation tethered to practicalities, reminding you of how much work must be done to make art real or romance last. But the Capricorn New Moon is giving you the validation you need to move confidently forward with your next masterpiece or relationship. The very ideas that seemed risky in the past are now paints on your palette of reality. Open your heart and let your light shine. Courage is contagious.
Libra Horoscope (Sept. 23 - Oct. 22)
Your plan to retreat to your safety zone where you can be left to your own devices is a winning strategy for waiting out this karmic Capricorn New Moon. But someone might throw a surprise in the mix if you get too comfortable hibernating in your cave. Refocusing on your personal goals gives you a chance to reflect on how you can create a safe haven anywhere you go by establishing more emotional security. Material prosperity is only one type of wealth. Solidifying the bonds with those dearest to your heart is a treasure that has no price.
Scorpio Horoscope (Oct. 23 - Nov. 21)
Your feelings are the source of your powerful intentions, but you often mute them so as not to scare those less comfortable with the messiness of emotional expression. Blending passion and practicality during this calculating Capricorn New Moon enables your audience to pick up on the sincerity of your words without losing the context. Building a foundation based on honesty and trust is the only way to create lasting connections. There is a lot of heavy lifting to be done, but your enthusiasm for the cause inspires others to pitch in. Cooperation cultivates sustainability.
Sagittarius Horoscope (Nov. 22 - Dec. 21)
You're a master at finding the silver linings in the darkest of clouds, lifting spirits with your sunny outlook on life. But your feet need to be firmly planted on the ground during this conservative Capricorn New Moon, so you can set sustainable financial goals and establish a reasonable budget. However, don't stop while you're on the road to responsibility. Reshuffle priorities so your personal convictions fuel your choices and your actions align with your dreams. First, you must believe that your most valuable investment is yourself.
Capricorn Horoscope (Dec. 22 - Jan. 19)
It may feel as if all is in order now as you rightfully receive accolades for your dedication to the cause. Nevertheless, this isn't just about birthday cakes or annual raises, but a growing sense of authority that comes from showing up and doing the work, day in and day out. Practice may not make perfect, but your willingness to take your responsibilities so seriously makes you the one everyone counts on to steer the ship in the right direction. Clarity is yours and there is little doubt in your mind what must be done on this Capricorn New Moon, but making the commitment is still a choice worth considering twice. Set solid intentions and navigate your course while the stars are on your side.
Aquarius Horoscope (Jan. 20 - Feb. 18)
Ideally, you could work from home in an uninterrupted state of blissful privacy during this Capricorn New Moon, catching up on chores and contemplation. But don't get too cozy, because at any minute your serenity might be shattered by a call to jump in to solve a crisis at the office or pinch hit in someone else's place for a charity event. The trick is to deliver on your commitments as efficiently as possible and delegate the rest of the responsibilities to reliable allies. Carving out some designated dream time allows your intuition to awaken. Your imagination is the construction zone of your mind.
Pisces Horoscope (Feb. 19 - March 20)
Opportunities are banging on your door during this Capricorn New Moon and you must dial into your psychic powers to choose the best one. You're excited but nervous as you prepare to launch your next dream project. Of course, you're extremely grateful for all the solid support you receive from your community, and hope to live up to everyone's expectations. Your trajectory is rational and reasonable, but you must perform a considerable amount of work if you plan on reaching the pinnacle of success. Own your power and prove you are worthy of the challenge. Courage and conviction are your tools of manifestation.
Content written by Morgan Friday
Start your Money & Business Potentials Tarot Reading now to see what may come from your current aspirations »