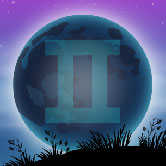 New Moon in Gemini Horoscopes: Mixed Signals
Read your sign's horoscope for the New Moon in Gemini

Although the New Moon on June 13, 2018, will rise in informative Gemini, the message of this celestial event will be unclear. That's because it's being squared by deceptive Neptune. While New Moons mark fresh starts, it could be difficult to know which direction to take in mid-June. Rather than trying to press the issue, try going with the flow. Gemini is a Mutable sign, meaning it will be easier than usual to pivot if things go wrong.
Even reliable sources can make mistakes mid-month. If you hear a bit of gossip, take it with a grain of salt. Give people the benefit of the doubt and stay positive in the face of disappointing news. Eventually, the truth will emerge, paving the way for a more caring, compassionate environment.
Make more sense of what's happening during this New Moon with personalized insight »
Read your sign's New Moon Horoscope below to learn more...
Aries Horoscope (March 21 - April 19)
Conflicting reports could come pouring in near the New Moon, making you confused about the best course of action. It's hard for a decisive person like you to be on the fence. Let this be a lesson in patience. Until you have more reliable information about what's going on with a sibling, community issue, or trip, you should remain in limbo.
If you're asked to sign a contract, play for time. Show the document to a legal professional who has lots of experience with such deals. Their advice will allow you to hammer out a much better arrangement. The longer you drag your feet, the easier it will be to get what you want.
Clear up the confusion with direct answers from a Yes or No Tarot Reading »
Taurus Horoscope (April 20 - May 20)
Beware of accepting a job offer that seems too good to be true. The amount of money you can make has been greatly exaggerated. Rather than leaving a secure position for this unfamiliar one, stay put. A far better opportunity will arrive before the Full Moon on June 28. If you're unemployed, don't worry. You can make ends meet by doing temporary jobs until your golden ticket arrives.
A moral dilemma could also occur at mid-month. Reserve judgment about a friend who has received bad publicity. Vicious rumors could circulate, but they will be the product of jealousy. Offer kind words of encouragement instead of condemnation. Your loyalty will be repaid many times over.
Make more sense of what's happening in your life now with a Celtic Cross Tarot Reading »
Gemini Horoscope (May 21 - June 20)
Resist an impulse to undergo a powerful change. This New Moon will make you yearn for greener pastures. Altering your appearance may seem like the quickest way to get the ball rolling. Don't you believe it. A talented artist could make a radical miscalculation, causing you to be very unhappy with a hairstyle, tattoo, or cosmetic procedure. Stick with a familiar look instead.
This is also not a good time to go on the record with bold statements. It will be tempting to lash out at an upsetting news story or social media post. Rather than go on the record, bite your tongue. You'll be glad you practiced discretion when more facts come out.
See how these current events can impact your immediate future with a Timeline Tarot Reading now »
Cancer Horoscope (June 21 - July 22)
A secret could come to light in mid-June, causing quite a bit of embarrassment. This revelation will be a blessing in disguise. Although you're a very private person, it isn't healthy to live in the shadows. The sooner you come clean about a past misdeed, addiction, or health challenge, the faster you can live free of shame. Lean on friends and family when your courage falters. Their support will be invaluable.
If you are facing legal difficulty, don't take it personally. Hidden personal loyalties may make it difficult to get a fair decision. Rather than taking this verdict personally, remain philosophical. You can build a better life once this matter is behind you. Head for higher ground.
Start your Revelation Tarot Reading now to see what secrets may come to light »
Leo Horoscope (July 23 - Aug. 22)
A newcomer to your social circle will be eager to become friends. Under normal circumstances, you'd welcome the chance to form an alliance. This situation is a little different. It's possible you're dealing with a manipulative individual who wants something more than your good opinion. Be wary about revealing personal information to this shady individual. Keep your wallet and personal information under lock and key when they're near.
It's also possible you'll feel the lure of a passionate entanglement during this New Moon. Resist the temptation to steer a platonic relationship into romantic waters. After an initial physical encounter, you may decide that chemistry is not enough to sustain this union. It's better not to get involved at all.
Get the personal love advice you need now »
Virgo Horoscope (Aug. 23 - Sept. 22)
You may hear a rumor that you're guaranteed to get a raise or promotion, only to be bitterly disappointed. It's possible you will be the victim of some behind-the-scenes maneuvers. A jealous rival could bend the ear of your boss, convincing them to reward someone else in the organization. Don't get mad; get even. A chance to join an even more successful company could arrive by the end of the month. Alternatively, you might decide to start your own company during the final days of June.
The terms of a business or romantic partnership could become confused near the New Moon. Have a heart-to-heart talk with your associate or S.O. about how work is affecting you.
Understand what's really happening in your professional life now with a Career Tarot Reading »
Libra Horoscope (Sept. 23 - Oct. 22)
Powerful convictions about religious, political, and cultural matters should be kept under wraps. You won't be able to convert strong-minded people to your point of view. Asserting your beliefs could also create professional problems. Discretion is critical in the days surrounding the New Moon. If you want to share your thoughts, do so with like-minded people who are sympathetic to your point of view.
A health concern could also present itself near the New Moon. It may take several visits to a medical professional before the problem can be pinpointed. Be open to visiting a holistic healer to get relief from a nagging ache or pain. Acupuncture, aromatherapy, or Reiki can be effective.
Bring greater balance to your mind, body, and spirit now with personalized guidance »
Scorpio Horoscope (Oct. 23 - Nov. 21)
Your heart and head can't agree. Although you're powerfully drawn to a romantic interest, you suspect you are not a good match. Steering clear of this union is a good idea. If you're already in a relationship, make sure your partner understands how much you value their contributions. A generous gift, an act of service, a heartfelt compliment, physical affection, and quality time are all good ways to show your affection.
A child could be acting out. Instead of underplaying their troubling behavior, pay attention to it. Spending more quality time together can give this young person the comfort and reassurance they desperately desire, but pretend they don't need. Don't be fooled by an indifferent attitude.
Get personal advice or your relationship now »
Sagittarius Horoscope (Nov. 22 - Dec. 21)
A romantic or business partnership could show signs of strain. You feel like you're being picked on for insignificant matters, while your other half thinks you're too vague. Unless you can meet in the middle, you may decide to go separate ways. If you're being pressured to sign a contract, hold out. It's important to get every detail hammered out before affixing your signature to this document.
Trying to live up to a family myth might be difficult. Rather than trying to earn the approval of your relatives, seek to satisfy yourself. The New Moon is offering you an extraordinary opportunity to break away from the pack. Summon your courage and assert your true feelings.
Help yourself heal and move forward with personal guidance now »
Capricorn Horoscope (Dec. 22 - Jan. 19)
Your duties with a job may be unclear. It will be difficult to get a straight answer out of your employer as to what you should be doing. It's difficult for a natural leader like you to cope with indecisive people in power. Keep your temper under control and ask for clarification at every turn. While waiting for instructions, you might want to apply for a better position. Any work involving advertising, education, or publishing is especially favored.
Crossed wires with a sibling, cousin, or neighbor may cause conflict in the middle of the month. When misunderstandings occur, take deep breaths and cultivate compassion. By giving the other party the benefit of the doubt, you'll be able to clarify the confusion.
Get the personal career advice you need now to steer things in the right direction »
Aquarius Horoscope (Jan. 20 - Feb. 18)
A romantic relationship could hit a rocky patch. It may be difficult to understand a love interest's motives. If someone is playing hot and cold with you, don't get drawn into the game. Make it clear that you want to know where you stand. Any partner who doesn't respect your feelings should be thrown by the wayside. You have better things to do with your time than play guessing games.
Confusion over financial matters might also cause problems. It's important to go over bills and credit card statements with a fine-toothed comb. You could discover erroneous charges or inflated interest rates. Be prepared to spend time on the phone with customer service to clear up these matters.
Get the answers you need to make sense of your love life now »
Pisces Horoscope (Feb. 19 - March 20)
Finding a new home could be more challenging than expected. Part of the problem is you are unclear about what you want. Instead of compiling a list of must-haves, be open to seeing a variety of properties. You may discover the perfect place in an unlikely neighborhood or resonate with a property that doesn't sound good on paper.
It's important to be honest about your emotions. If you've been suppressing feelings of sadness, guilt, or anger, let them out. Express yourself through artwork, sports, and volunteer work. Journaling can also be a therapeutic outlet at this confusing time. When all else fails, talk to sympathetic friends; their advice in mid-June may prove very helpful.
Get the personal advice you need to reach a point of healing at this New Moon »