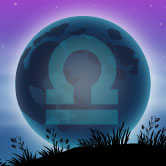 New Moon in Libra Horoscopes
Anticipation and balance are renewed during September's second New Moon

The New Moon in Libra on September 30, 2016, is all about pursuing harmony. However, we must understand that the need for creating balance can touch every part of our lives, including personal and business relationships. Paradoxically, we need to stand our ground or even fight for peace, since the New Moon squares warrior Mars and potent Pluto. But engaging in a power struggle is not the goal, it's just a hurdle that has to be overcome on our way to a more tranquil existence.
This lunation is the first New Moon of autumn (in the northern hemisphere). It offers us a chance to hit the emotional reset button so we can start over. Naturally, we carry our past memories with us, but they don't exert the same influence as they once did. It's as if we've finally been given the go-ahead and we look to the horizon with renewed anticipation.
Although we strive for objectivity, we may deceive ourselves into believing everything is great, because this Sun-Moon conjunction joins optimistic Jupiter. No doubt, we can be misled by our fantasies, but these dreams also lay the foundation on which we build our futures.
Get the healing energy you need to begin a new phase from a Self-Healing Potentials Tarot reading now.
Read more about the impact of this New Moon in Libra with your sign's horoscope below.
Aries Horoscope (March 21 - April 19)
You are so driven to resolve a relationship issue that you could appear overly aggressive to others. Compromise sounds like a good idea on paper, but it's not easy to make a deal with your emotions while the Libra New Moon squares warrior Mars from your 7th House of Partnerships. Luckily, your optimism will likely outweigh any negativity as you try to assess the pros and cons of the solutions on the table. Just remember to soften your approach; social graces are important if you wish to be taken seriously.
Taurus Horoscope (April 20 - May 20)
A normally comfortable relationship with your coworkers is more awkward as your long-term goals clash with those around you. The creative Libra New Moon touches down in your 6th House of Employment, helping you focus your mind on the tasks ahead. However, a dynamic square to impatient Mars can make your job feel oppressive if you don't have enough leeway to work at your own pace. Nevertheless, as Henry Ford said, "If everyone is moving forward together, then success takes care of itself."
Gemini Horoscope (May 21 - June 20)
You might appear to be a party in motion, brightening up any place you go. You're assertive but not offensive; however, you must pay attention to the reactions of others and adjust your rhetoric accordingly so you don't push an issue too far. Nevertheless, the Libra New Moon mingles with indulgent Jupiter in your 5th House of Fun, encouraging you to play before you work. Turn peer competitiveness into an enjoyable game to cultivate a sense of camaraderie. There will be plenty of time to dig in and do the hard work later when everyone is on the same page.
Cancer Horoscope (June 21 - July 22)
Don't expect to be fully rational when explaining your motives to others, even though you're trying to empathize with both sides of a family squabble. The fair-minded Libra New Moon agitates your 4th House of Roots, encouraging you to stabilize interpersonal dynamics. Ultimately, your best strategy is to develop a logical framework that people close to you can understand. However, be ready to incorporate whatever information comes to you in an intuitive flash. Trust the wisdom of your soul; it knows the way to your happiness.
Leo Horoscope (July 23 - Aug. 22)
Keeping things simple is an uphill battle as your mind is cluttered with stories that complicate communication and impede cooperation. Although the evenhanded Libra New Moon in your 3rd House of Learning opens your eyes to new ways of looking at the world around you, its square to contentious Mars is like a dark cloud following you around wherever you go. Although gathering information that clashes with what you already know may create as many problems as it solves, your curiosity can also lead to the discovery of innovative solutions.
Virgo Horoscope (Aug. 23 - Sept. 22)
A more objective picture of your current financial situation begins to emerge as the equitable Libra New Moon lands in your 2nd House of Possessions. However, the proximity of expansive Jupiter blesses you with a number of opportunities. Fortunately, you can hone your creative skills with patience and discipline to increase your sense of self-worth, and perhaps your income as well. Novelist Chetan Bhagat wrote, "Be so busy improving yourself that you have no time to criticize others."
Libra Horoscope (Sept. 23 - Oct. 22)
A surge of creativity feeds your optimism and inspires you to overcome obstacles. The social Libra New Moon brings marvelous possibilities from its close association to propitious Jupiter in your 1st House of Self. However, your inherent ambivalence may impede your progress, reflecting your desire to make choices that are best for everyone involved. You're hesitant to decide one way or another because you can see potential in all the options. There's no need to overreact; instead of making an arbitrary decision, adapt and adjust to maintain harmony in a changing environment.
Scorpio Horoscope (Oct. 23 - Nov. 21)
If you've been patiently waiting for the clouds to clear, the fair-minded Libra New Moon's presence in your 12th House of Destiny could offer you the answers you seek. The Sun-Moon conjunction to wise Jupiter may bring a spiritual teacher or motivational mentor to enlighten your perspective. Psychologist Carl Jung wrote, "Your vision will become clear only when you look into your heart. Who looks outside, dreams. Who looks inside, awakens."
Sagittarius Horoscope (Nov. 22 - Dec. 21)
Powerful waves are washing over you as extravagant Jupiter joins the gracious Libra New Moon in your 11th House of Dreams and Wishes. You might, as William Blake wrote, "See infinity in a grain of sand," but it's healthy to seek moderation, since you're operating at full speed. No matter how eager you are to reach your goals, you're better off slowing down and working as part of the team for everyone's benefit. Nevertheless, cheerfully looking ahead rather than gazing wistfully behind allows you to vividly visualize your unrealized dreams.
Capricorn Horoscope (Dec. 22 - Jan. 19)
The company you keep at work is more important than ever while the diplomatic Libra New Moon emphasizes your 10th House of Career. How you connect with your colleagues influences your current trajectory, so shore up your alliances before making any major moves. Fortunately, energetic Mars in your hardworking sign blesses you with the stamina to follow through on anything you start. Just remember that considering the needs and desires of others will also help you enlist their cooperation in promoting your ambitions. Teamwork makes the dream work.
Aquarius Horoscope (Jan. 20 - Feb. 18)
You may be quite content in your own bubble, so preoccupied with theory that you miss the more practical considerations. Although the creative Libra New Moon dances in your 9th House of Big Ideas, it's critical to bring your thoughts down to earth if you want to accomplish something real. Even if you can see amazing possibilities everywhere you look, you must rein in your imagination and place your feet firmly on the ground. Reevaluate your current circumstances, dream of what's around the next corner and find a healthy medium between what you have and what you want.
Pisces Horoscope (Feb. 19 - March 20)
Relationships take center stage, so brace yourself for some excitement in both personal and professional alliances. The ambivalent Libra New Moon occurs in your 8th House of Intimacy, provoking partnership problems, while its square to argumentative Mars can turn minor differences into major events. Buttons are pushed that may upset the status quo. Be clear about your intentions and conscientious in your commitment. If complications arise, don't give up on working with someone who's willing to grow with you. Change is easier when shared.
Start your Self-Healing Potentials Tarot reading now to make the most of this regenerative time »