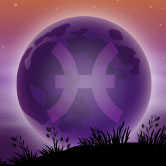 New Moon in Pisces Horoscopes: Poking the Hibernating Bear
Read your sign's horoscope for the New Moon in Pisces

The New Moon in Pisces on March 17, 2018 could rouse people into action. When the New Moon rises in this sign, it should be a time of quiet reflection. Unfortunately, combative Mars is challenging this celestial event, sending off a shower of sparks. People who have been content to dream may be roused into action. Defending deeply held beliefs, fighting for peace, and demanding more leisure time are among the possibilities.
Although old traumas could resurface, that will be a blessing in disguise. That's because Chiron, the wounded healer, is forming a conjunction with this New Moon. Instead of suppressing painful memories, take this opportunity to face them. This month's Pisces New Moon invites you to awaken from a prolonged slumber to greet the dawn. You won't want to miss a thing.
This New Moon has a message for YOU! Reveal what it is now.
Aries Horoscope (March 21 - April 19)
March will be a time of spiritual renewal for you. Seize this opportunity to withdraw from public life. Turning your attention inward will result in a breakthrough. After a period of vague unease, you'll pinpoint the source of the problem. A boring routine has been draining your energy and dulling your enthusiasm. Rather than continue this regimen, you may want to end it. Delegate a boring chore to someone else. Exchange one form of exercise for another. Become more adventurous in your dietary choices.
Even subtle shifts can result in tremendous breakthroughs. Don't be surprised when you rediscover your passion for world news, philosophical discussions, or advanced studies because of this New Moon. Replace a dutiful regimen with a lofty pursuit.
Taurus Horoscope (April 20 - May 20)
This New Moon inspires you to examine your social network. If you're continually offended by a friend's posts, ask yourself why you are holding on to this relationship. Staying tied to someone whose values are in complete contrast to your own can be damaging. Consider how much time you spend engaging in imaginary arguments with this provocateur. Wouldn't it be easier to just go your separate ways?
If you're afraid of making waves, that's a sign you should part ways. Keeping the peace isn't a good enough reason to stay friends. Your nearest and dearest should be a source of support. Summon your courage and quietly end this alliance. You don't have to be hostile or confrontational.
Gemini Horoscope (May 21 - June 20)
A career opportunity may trigger an argument with your business or romantic partner. You may be shocked to realize that your other half is jealous of your success. This comes as a real disappointment, since you've always celebrated their achievements. Sit down and have an honest discussion about their feelings. After hearing their concerns, be sure to share why you are so hurt by their reaction. Cite specific words and actions that have undermined your happiness.
Once you've cleared the air, you'll be ready to accept this extraordinary job offer. Working with an artistic company or nonprofit organization will be especially enjoyable. This position will be much more satisfying than one in the corporate world.
Cancer Horoscope (June 21 - July 22)
Your desire to expand your horizons will be limited by work obligations. Don't be surprised if your request for vacation time is rejected by your employer. Working during the busy season or covering from an ailing employer may force you to stay put. Alternatively, it may not be possible to travel while you recover from an illness. Wait until your system is stronger before hitting the road.
A business or romantic partner will be a tremendous source of strength. When you get tired of carrying out the same old routine, lean on your other half for support. They'll be happy to relieve you of a dreaded chore or boring regimen. Ask and you will receive.
Leo Horoscope (July 23 - Aug. 22)
You're tired of always giving and receiving little in return. Someone who invites you to join forces will be getting the best part of the deal. It may be better to maintain your independence. Beware of applying for a credit card or co-signing a loan. It's better to live within your means than incur lots of debt.
You have a deep love of luxury that can be satisfied with your own efforts. A steady job may not sound exciting, but it's worth taking. Not only will this position provide a good source of income, but it will increase your skill set. Use the power of this New Moon to support yourself in the manner you've always desired.
Virgo Horoscope (Aug. 23 - Sept. 22)
Don't rush into a partnership. Although you enjoy the company of a highly creative person, you may find it difficult to satisfy each other's needs. Having a rewarding home life is very important to you. Getting involved with a restless adventurer will lead to disappointment. If you're already in a relationship, it's important to discuss any resentments you've kept hidden from your other half.
If you long for more romance and excitement, cultivate it yourself. Book a vacation at a place that captivates your imagination. Launch a creative project that is close to your heart. Buy a luxury item that fills you with pleasure. Treat yourself the way you want to be courted by a worthy admirer.
Libra Horoscope (Sept. 23 - Oct. 22)
All that glitters is not gold. You could get a job offer that sounds wonderful but is fraught with complications. Be wary about signing a contract that is too binding. You don't want to put yourself in a position that makes it impossible to take bigger and better assignments. Before entering into any agreements, make sure to consult a legal professional that specializes in such deals.
Instead of hitching your star to a glossy entrepreneur, think about launching a home-based business. Being able to work from home will help you strike a better work-life balance. Such an arrangement will also allow you to work for appreciative clients that are willing to pay top dollar for quality work.
Scorpio Horoscope (Oct. 23 - Nov. 21)
A creative project will hit a snag. You may not have the resources to buy the materials or services you need. Instead of settling for second best, you may want to put this job on hold. Compromising your standards will cause regret. It's better to hit the pause button and look for other sources of funding.
An artistic, spiritual, or cultural organization could be very helpful. Don't hesitate to apply for a grant or scholarship. Although it will take time to get a response, you should apply as soon as possible. A handsome check will arrive, allowing you to purchase the things you need to achieve an impressive effect. When one door closes, move to open a window.
Sagittarius Horoscope (Nov. 22 - Dec. 21)
The New Moon is urging you to find a better living situation. You may be tempted to take the first place you see. Resist the temptation to sign a lease or make a down payment until you've seen a range of properties. While it's understandable you want to be settled, you don't want to enter a binding contract that makes life miserable.
If you're on a shoestring budget, think about taking on a roommate or looking further afield for a place to live. Although this arrangement won't be ideal, it will allow you to live within your means. The last thing you want is to lie awake at night worrying about paying the rent or mortgage.
Capricorn Horoscope (Dec. 22 - Jan. 19)
A club looks impressive but beware of joining too hastily. After doing some research, you may decide you don't want to get involved. The last thing you want is to have your name associated with an institution that has questionable dealings. If you're being pursued by persistent salespeople, tell them you aren't interested. Be polite but firm. The sooner you escape their orbit, the happier you will be.
If you want to surround yourself with creative types, launch your own club. Set high standards. Base membership on accomplishments -- you'll quickly assemble an impressive group that is the envy of rival organizations. This New Moon urges you to be a leader, not a follower.
Aquarius Horoscope (Jan. 20 - Feb. 18)
A money-making opportunity will fall short of your goals. Beware of taking a job that involves a large committee. It will be virtually impossible to get anything done if you're constantly having to take votes. An independent person like you will fare much better by acting as a free agent.
The secret to your success is landing an important client that pays regularly. Doing contract work for a large institution like a hospital, university, or government agency is worth your while. A temporary assignment could lead to a regular source of income. You'll especially enjoy working for an accomplished person who trusts your judgement. When given free rein, you produce impressive results.
Pisces Horoscope (Feb. 19 - March 20)
You want to change your image, but your job won't allow it. Having to conform to a certain ideal is cramping your style. Resist the temptation to quit your position. It will be much easier to find a better situation if you're already employed. Be patient with your job search.
Are you thinking of launching your own business? Offering products and services to fellow outsiders is a good possibility. You can get funding from a professional organization dedicated to helping people like you. Don't be intimidated by a lengthy application. A businesslike Virgo or Capricorn will help you with the difficult parts. Make sure to give them a lavish gift as thanks for their input.
Get personalized guidance for this New Moon with a Celtic Cross Tarot Reading now!