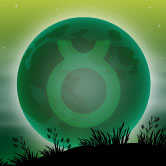 New Moon in Taurus Horoscopes
Nurture your ambitions at May's New Moon

The New Moon in Taurus on May 6, 2016, is a time to plant practical seeds of intention and nurture them as they begin to take form. It doesn't matter whether we are growing plants in the garden or cultivating ideas in our fertile imaginations. However, we must set aside unrealistic dreams to focus on those that have the best chance of becoming real.
The Taurus New Moon forms a useful Grand Earth Trine with prosperous Jupiter in efficient Virgo, and potent Pluto in calculating Capricorn. We are blessed with the stamina to overcome nearly any resistance we might face on the road to progress. Nevertheless, six planets in pragmatic Earth signs remind us to do our due diligence and finish our homework. Undoubtedly, we are at an important junction and there is no time for laziness. We have a good chance of reaching our goals if we choose the right targets, set sensible priorities, and make straightforward plans. Proper preparation doesn't guarantee success, but it surely tilts the odds in our favor.
Get guidance for your new endeavor! Start a Mandala New Beginnings Tarot reading now.
See what this New Moon can do for you with your sign's New Moon Horoscope below.
Aries Horoscope (March 21 - April 19)
Rather than impulsively modifying your direction to increase your chances of success, apply the stabilizing potential of the earthy Taurus New Moon in your 2nd House of Self-Worth. There's no need to change your destination if you believe in yourself, for altering your plans only distracts you from what you need to be doing. Instead, rethink your strategy and then reallocate your resources so you can gain efficiency on your current journey. As Gandhi said, "Action expresses priorities."
Taurus Horoscope (April 20 - May 20)
A convergence of unrelated circumstances requires you to decide what comes next in your life. But don't limit your options by focusing on a recent setback; wipe the slate clean so you aren't constricted by yesterday's plans. The Taurus New Moon activates your 1st House of Self, enabling you to express a higher level of self-determination over the weeks ahead if you are willing to make a decision. However, choosing which road to take at this point isn't enough; you must also commit to giving one hundred percent until you accomplish your goal.
Gemini Horoscope (May 21 - June 20)
An apparently trivial choice could have profound consequences that are not yet obvious. In fact, every move you make may be more important in the long run than you realize because the Taurus New Moon galvanizes your 12th House of Destiny. Although you're tempted to keep everything light and easy, it's wiser to stop and contemplate the ramifications of your actions before going too far. If you're unsure of your direction, refrain from making any changes until you gain clarity. Doing nothing at all is better than doing something you quickly regret.
Cancer Horoscope (June 21 - July 22)
Although you might not be able to avoid your responsibilities, you don't need to waste time micromanaging a project at work. Instead, acknowledge the Taurus New Moon's impact on your 11th House of Long-Term Goals by leaving time in your day to plan for your future. Don't be afraid to be bold in your thinking, for your current ideas are more practical than you realize. As Theodore Roosevelt said, "Keep your eyes on the stars and your feet on the ground."
Leo Horoscope (July 23 - Aug. 22)
A methodical approach to managing your resources enables you to advance at work rather than getting caught up in idealistic dreams. The Taurus New Moon empowers your 10th House of Career, inspiring you to complete a project successfully. Even if you don't actually initiate action on a new venture, at least evaluate your options and devise a strategy that will carry you forward. Without a well-considered plan in place, a goal is simply an idle wish.
Virgo Horoscope (Aug. 23 - Sept. 22)
If you're contemplating enrolling in a program to expand your career horizons, the Taurus New Moon's presence in your 9th House of Higher Education could nudge you further along that line of thinking. However, if your idea of personal growth doesn't involve the classroom, you might consider taking a working vacation that allows you to travel and widen your perspective in other ways. An open mind allows you to explore the world with open eyes.
Libra Horoscope (Sept. 23 - Oct. 22)
You derive great meaning from relationships of all types. However, you're currently attracted to interactions that lead you into unexplored interpersonal realms as the Taurus New Moon emphasizes your 8th House of Deep Sharing. Although the cosmos is reminding you that a joint venture might offer more advantages than going off on your own, there are pros and cons to giving up your autonomy. Nevertheless, the right partner could offer the ways and means for you to reach your goal. Making a smart alliance is certainly in your best interest as long as your intentions are noble.
Scorpio Horoscope (Oct. 23 - Nov. 21)
Letting go of a hurtful memory enables you to see beyond your previously limited point of view. You have an opportunity to redefine your frame of reference if you're willing to reveal your vulnerability to someone trustworthy. Your emotional IQ is boosted by your common sense as the Taurus New Moon mobilizes your 7th House of Relationships. It doesn't matter what your plans are for the future; you can still benefit from a mutually supportive friendship if you set aside your fears and entertain the possibilities of a solid connection.
Sagittarius Horoscope (Nov. 22 - Dec. 21)
You're ready to say yes to a new project but only if it meets your particular conditions. Rather than being motivated by high ideals, the Taurus New Moon's occurrence in your 6th House of Work reflects a more pragmatic approach to your job. It's not that you lack vision; it's just that you're more concerned with completing one task before beginning something else. Keep it simple until you can see how much time you need to allocate to your previous commitments.
Capricorn Horoscope (Dec. 22 - Jan. 19)
You are entering a highly creative phase where the possibilities are only limited by what you believe. Although the Taurus New Moon falls in your 5th House of Spontaneity, several retrograde planets suggest you could be in for some trouble if you impulsively run off in an entirely new direction. However, it makes sense to push ahead on a project as long as you are harnessing enthusiasm that has been building for some time. Change the plan and not the goal.
Aquarius Horoscope (Jan. 20 - Feb. 18)
It's time to set a stake in the ground that can be used as a cornerstone for the foundation you are busy constructing. Although there will be a fair share of obstacles ahead, creating consistency in your life is crucial while the Taurus New Moon feeds your 4th House of Security. Ultimately, building on what you have already gained is possible as long as you feel emotionally safe. However, your future will be more uncertain if you are anxious about your present vulnerability. Stability is more important to success than brilliance when push comes to shove.
Pisces Horoscope (Feb. 19 - March 20)
Although you may be an idealist by nature, it's time to temporarily put your dreams away and face the music in the mundane world. The uncomplicated Taurus New Moon fuels your 3rd House of Communication, encouraging you to stick to the basic facts in all interactions. Demand the simple truth and give people the same in return. But don't worry about your current lack of imagination; it will return on its own accord. Oddly enough, you can experience a satisfying peace of mind when you accept reality as it is.
Energize your fresh start with advice from a Mandala New Beginnings Tarot reading »