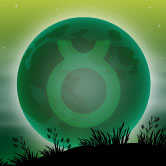 New Moon in Taurus Horoscopes: Magical Manifestations
Read your zodiac sign's New Moon horoscopes

May 15, 2018, marks a magical New Moon in Taurus. New Moons are ideal times to make fresh starts, launch programs, and initiate conversations. Taurus is a sign of abundance, financial stability, and sensual pleasure. Put the two together and you have the power to manifest something truly magical on the material plane. Whether you want to buy a new home, start a business, or get an engagement ring, this is your ideal time to announce your intention to the universe.
Pluto, the planet of transformation, is making a trine to this New Moon, indicating the abundance that is drawn into your life will be transformative. When setting your intention, think big. Instead of enjoying a weekend getaway, book tickets for a worldwide cruise. You get the picture. Read your sign's New Moon Horoscope below to learn more...
Find out how this New Moon will affect your immediate future with insight from a Timeline Tarot Reading.
Aries Horoscope (March 21 - April 19)
May's New Moon is an especially good time for you to attract sources of income. Whether you want a more lucrative job, yearn to start a business, or sell your handiwork on a crafting website is immaterial. When you do what you love, the money will follow. If you have a job that you absolutely adore, ask for a big raise. Cite all the achievements you've made in the past year to justify a higher salary. Your powers of persuasion are very strong right now.
Alternatively, a prominent social or creative organization could invite you to take the helm. This role will be profoundly rewarding and give you tremendous confidence. Put your inherent leadership ability to work.
Get guidance for your current career and money situation now »
Taurus Horoscope (April 20 - May 20)
This month's New Moon invites you to reinvent yourself. This could involve anything from undergoing a makeover to changing your name to launching a website. Don't be shy about showing the world who you really are. Asserting your needs, wearing eye-catching clothes, and sharing powerful ideas will change the public's perception of you. Best of all, you'll feel more confident after adopting this image. Instead of trying to blend in, you'll be able to distinguish yourself from the crowd in an empowering way.
An opportunity to share your experience and expertise could also be on the horizon. Earning an advanced degree, getting a tenured teaching position, or landing an overseas job will be the answer to a prayer.
See how the current energies are impacting your personal life now »
Gemini Horoscope (May 21 - June 20)
This New Moon brings an opportunity to rest, relax, and reflect. Sneaking off to a tranquil hideaway is strongly advised. Instead of visiting a glittering metropolis, opt for a destination that is famous for its natural beauty. Whether you're staying someplace with fabulous gardens or visiting an animal sanctuary is immaterial. Communing with nature in mid-May will give you a new lease on life.
A passionate relationship could also burst into flower. If you're already in a relationship, devote more time to sensual pleasure with your partner. Be open and encouraging with one another. When you're satisfied in the bedroom, every other area of your relationship will improve. Are you single? By treating yourself like royalty, you can attract an attentive admirer.
What kind of possibilities does your relationship hold at this New Moon? Find out now »
Cancer Horoscope (June 21 - July 22)
Who you know is just as important as what you know in the days surrounding the New Moon. Seize every opportunity to attend parties, professional gatherings, and casual get-togethers in mid-May. You'll meet accomplished people who take an interest in you. With their help, you'll be able to showcase your creative work, find love, or increase your earnings. Keep your ears open for someone with a velvet voice. This person should be especially helpful.
Working with a partner could speed you toward your goal. Team up with an ambitious executive. Their practical methods, combined with your emotional intelligence, can move mountains. Thanks to this alliance, you'll be able to realize a dream you've harbored since childhood.
See how the relationships and other factors of your life are helping or hurting you now »
Leo Horoscope (July 23 - Aug. 22)
This New Moon brings exciting career prospects. If you are languishing in a dead-end job, it's time to switch gears. Work that involves luxury goods, real estate, or gourmet food is especially suited to you. Providing the public with goods and services that make their lives sumptuous is a great goal to pursue. If you own a business, you could get fantastic publicity from a magazine article or blog post.
If you've been looking for work, give careful thought to your professional appearance. Investing in a tailored suit or adopting a more conservative look can greatly improve your job prospects. It can also help to embark on a fitness program. Radiating good health will attract the interest of job recruiters.
Discover the career possibilities that await you at this New Moon »
Virgo Horoscope (Aug. 23 - Sept. 22)
There's never been a better time to expand your horizons. Earning an advanced degree, publishing a book, or landing an impressive teaching position are all gifts this New Moon can deliver. You've been blessed with a strong intellect. Sharing your ideas, acquiring advanced knowledge, and exploring unfamiliar territory will bring the mental stimulation you crave.
You're never more attractive than when your brain is getting a workout. Consequently, there's a good chance that you'll become something of a love magnet in mid-May. If you're in a relationship, let your partner shower you with affection, gifts, and favors. Are you looking for love? You could find it at a professional conference, mountain resort, or hiking excursion.
Get personal insight into the undercurrents happening in your love life now »
Libra Horoscope (Sept. 23 - Oct. 22)
A passionate encounter could rock your world. If you're in a relationship, arrange a romantic outing that's tailored to your partner's taste. This could pave the way for a sensual experience that strengthens your bond. Are you single? You could meet someone special at a restaurant, garden, or concert. Resist the tendency to overanalyze situations, and be guided by physical impulses instead.
Buying a home or relocating to a beautiful area might also be in the cards for you. There will be a posh feel to your surroundings that makes your spirits soar. If you need a loan or gift of money, this is the best time of the entire year to get one.
Learn more about the impact this New Moon can have on your love life now »
Scorpio Horoscope (Oct. 23 - Nov. 21)
Teamwork is the name of the game. This New Moon invites you to join forces with a pragmatist. Their earthy sense of humor, combined with your powers of perception, make an unbeatable combination. If you're ready to get married or form a business partnership, get the ball rolling. Your other half will give you the emotional, financial, and creative support to achieve success.
A writing project might have a transformational effect at the time of this New Moon. Whether you're crafting a novel, screenplay, or how-to manual, this process will open your eyes to exciting possibilities. Give yourself permission to think deeply about a story or lesson. The insights you gain will help you in every area of life.
See how this very moment is impacting what happens in your immediate future »
Sagittarius Horoscope (Nov. 22 - Dec. 21)
Your work life is looking up. If you've been looking for a job, you'll be offered a steady position that pays well. Seize this opportunity to pay off your debts and build up your savings. Not only will this job bring economic security, but it will also give you valuable experience. If you're happy with your current position, pour your energy into a health regimen. Adopting a healthier diet will give you an attractive glow that turns heads.
If you're given a choice between taking a flat salary and earning a commission, choose the latter. You'll easily outperform the competition; it's only fair that you're compensated accordingly. Use these earnings to buy a home, start a business, or finance a dream project.
Get more personal advice for your professional life now »
Capricorn Horoscope (Dec. 22 - Jan. 19)
This New Moon is ready to shower you with romance, adventure, and creative fulfillment. Be open to all the bounty that is coming; you deserve it. If you're looking for love, you'll find it with someone who has an earthy sense of humor. Do you want to increase your income? A financial gamble could pay off handsomely, especially if it involves real estate, luxury goods, or agriculture. Are you yearning for artistic fulfillment? Get to work on a painting, book, film, or design. The results will delight you.
Your charisma is at an all-time high, drawing admirers like a magnet. This is a great time to go on job interviews, dates, and auditions. People respond enthusiastically to your commanding aura.
See here how every part of your life is changing at this very moment »
Aquarius Horoscope (Jan. 20 - Feb. 18)
Home is where the heart is. If you're not happy with your current living situation, you're in luck. You could find a beautiful place to live with the help of the New Moon. Look for an abode in an affluent area that features lots of gorgeous landscaping. The sight of flowers, trees, and beautiful lawns will uplift and inspire you. If you adore your current living space, take this opportunity to host a festive family reunion.
If you're facing a difficult choice, sneak away to a tranquil hideaway. Instead of agonizing over the options, be still and let the answer come to you. A period of quiet can result in a tremendous breakthrough.
Find out how you can find the help and healing you need at this New Moon »
Pisces Horoscope (Feb. 19 - March 20)
Taking a class could give you a new lease on life. You've been blessed with tremendous creative ability. Exercising your imagination as much as possible brings out the best in you. It doesn't matter whether you're learning how to bake cakes, plant flowers, or make pottery; the important thing is to choose a subject that fills your heart with happiness. Not only will you acquire valuable skills through this course, but you'll also form a humorous friendship.
There is power in numbers for you in mid-May. Joining a professional organization, athletic club, or political organization will be empowering. By mixing with people who share your interests and values, you'll be able to realize childhood dream.
The things you learn now will impact your immediate future! Find out what is coming next for you »