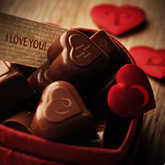 Valentine's Day Horoscopes 2013
Venus and the Moon align in the name of love

Isn't it nice when the planets cooperate on a special day? When it comes to matters of the heart, there is no greater cosmic connection than to have a happy link between love planet Venus and the Moon, which rules our deep emotional needs and tender feelings. These two planets together spell affection, hugs, kisses and warmth for Valentine's Day 2013.
You can get more details about what your own love life has in store with a Big Picture Love Forecast. Lucky for us, this Valentine's Day we get to enjoy an extraordinary link between the Moon and Venus! As if that wasn't enough, the Sun (masculine energy) and the Moon (feminine energy) will also be at a gorgeous angle to one another, allowing your emotions to shine through with ease.
In fact, because the Moon will be in fiery Aries this Valentine's Day, you can expect to feel a strong amount of courage when it comes to telling the object of your affection exactly how you feel. You might be bold and make the first move to ask someone out on a date if you're single and someone has captured your attention.
No Valentine this year? Well, don't expect to have one of those lonely, pathetic Valentine's Days where you stare at happy couples with bitter resentment. Not with the Moon in independent Aries connected to the Sun and Venus in social Aquarius!
Instead, you and your single friends might decide to throw your own Valentine's Day friendship bash or attend a party and mingle. Either way, your sexy factor will definitely be in high gear!
Look up your zodiac sign below to get your individual love forecast for Valentine's Day.
Aries (March 21 - April 19)
You're hot and you know it! Be sure to wear red, as it's not only the color of passion, but with the Moon in your sign this Valentine's Day it will bring you extra attention. You'll feel a special balance when it comes to getting your emotional needs met by a partner because he or she will easily honor that part of you that needs to be free and independent. Love doesn't need to equal suffocation, and this year if you're attached you will certainly feel as if you've achieved the best of both worlds. If you're single, it's possible for love to blossom between you and a friend.
Taurus (April 20 - May 20)
Love and respect go hand-in-hand, and these days you'll certainly feel proud to walk beside your sweetheart and call him or her yours. There's something about your partner that elevates your status, and this makes you especially gratified. If there have been any feelings you've kept to yourself, today might be the time you open up and courageously reveal all of you to your special someone. If you're a Taurus who has been dating someone for a while, with Saturn in your 7th House of Partnership, it's likely a new level of commitment will develop between you and your love -- possibly even leading to engagement or marriage!
Gemini (May 21 - June 20)
Expect nothing less than breathtaking adventure this Valentine's Day! The Moon will connect beautifully to the Sun and Venus, now in your 9th House of Expansion. There might be a new love interest on the horizon -- someone with a background quite different from yours. If so, this person will grab your attention like no other! At the very least, you and your love will enjoy a romantic dinner at a restaurant with exotic cuisine. With Jupiter in your sign, there's no limit to your capacity to relate to others with enthusiasm and optimism. Any relationship -- whether new or old -- will stimulate you intellectually, much to your delight. This is perfect, because for you the mind is the most important erogenous zone.
Cancer (June 21 - July 22)
Whether you're single or attached, this Valentine's Day has special romantic potential. Single Cancer may plan a vacation or spiritual retreat, or decide to attend a workshop. If so, don't be surprised if you meet someone you develop a strong emotional bond with. Thanks to a gorgeous link between Mars and Saturn, now in your 5th House of True Love, you'll have a strong capacity to meet someone who can teach you how to express the deeper meaning of love. In a relationship? Mars will connect to Pluto, now in your 7th House of Partnership. You, too, will have a chance to forge a deeper intimate connection with your mate, but it'll require a more physical expression of love.
Leo (July 23 - Aug. 22)
Emotional freedom and healthy boundaries will be important to maintain in a relationship this Valentine's Day. Lucky for you, it'll be easy to get exactly what you want out of love. The Moon will embrace both the Sun and Venus, now in your 7th House of Committed Partnership. Relationship harmony will be at an all-time high, and it's possible that you and your mate will agree on exploring unusual -- even nontraditional -- parameters that will help strengthen your bond. Don't worry about what the rest of the world thinks; your love might be off the beaten path, but it's definitely real. Treasure it!
Virgo (Aug. 23 - Sept. 22)
With transformative Pluto slowly making his way through your 5th House of True Love, you don't need a special day to get your heartstrings pulled. A romantic experience is likely to quickly become intense and all consuming -- for better or worse. Happily, this Valentine's Day there are spectacular links to support love and depth in the most soul-satisfying way. Mars, now in your 7th House of Committed Partnership, will connect beautifully to Pluto, giving you the impetus to go after the level of depth you really want with someone close. Although this aspect will peak the day after Valentine's Day, you will absolutely feel it pull at your heartstrings now. When it comes to love, it's all or nothing. Thankfully, you're in a position to have it all.
Libra (Sept. 23 - Oct. 22)
You have officially won the jackpot of love this Valentine's Day! The incredible links of the Moon to the Sun and Venus will fall between your 5th House of True Love (Sun and Venus are there) and your 7th House of Partnership (the Moon is there). Your romantic prospects are strong, but so is your potential to forge a deep, lasting emotional bond with whomever you choose to be your Valentine. And with Venus in Aquarius in your 5th House of Dating and Pleasure, you can expect plenty of suitors to choose from! The best part will be that whomever captures your heart will be your friend first, and then your lover. A perfect foundation for true love indeed!
Scorpio (Oct. 23 - Nov. 21)
Sexy Mars will be in your 5th House of Love and Pleasure on Valentine's Day. As a result, you'll have an extraordinary ability to attract the object of your desire and enjoy playing the game of love with someone special. Your first priority this Valentine's Day will be the pursuit of pleasure, and because Mars is in soul mate-seeking Pisces, you're not interested in the average one night stand. Nope, you want the fairy tale romance. Lucky you, Mars is moving towards a perfect trine with Saturn in your sign. This aspect will peak two days after Valentine's Day, but you will certainly feel its effects now. Your deepest romantic longing will have every chance to materialize. Love potion anyone?
Sagittarius (Nov. 22 - Dec. 21)
This Valentine's Day, quite possibly more than most, you'll get the distinct feeling that you need love. Not in a needy sort of way (that's never your style), but rather in an "I want to be squeezed, cuddled and loved for ME" sort of way. Well, here's the good news: Your wish is the Universe's command. The Moon will be in your true love sector, making a brilliant link to both the Sun and Venus, now in your 3rd House of Communication. Expressing your feelings to the one you love should be quite natural, and you might feel the urge to write your sweetheart a letter that conveys exactly what your heart feels. Expect a declaration of love in return.
Capricorn (Dec. 22 - Jan. 19)
You're in a deep process of personal metamorphosis, thanks to Pluto's tour through your 1st House of Identity. When it comes to relationships, you might have already discarded old, outworn patterns in an effort to pursue the type of partnership that leaves room for personal growth. You're learning that control isn't an ingredient in a healthy relationship, and romance might not exactly be your first priority this Valentine's Day. Whether you're in a relationship or single, you'll have an opportunity to convey your thoughts about love vs. unhealthy obsession to someone close. He or she is likely to benefit from your wisdom. So will you.
Aquarius (Jan. 20 - Feb. 18)
With the Sun and Venus in your sign, your magnetism is off the charts! This Valentine's Day, your sweetheart will love you most for everything that sets you apart. Whether it's the strange color you decide to dye your hair, the latest tattoo you get in the name of love, or just the unusual way you walk, you can expect plenty of verbal compliments from someone close. You might receive a love letter or poem from your Valentine and you can definitely expect to have a conversation with your mate that makes your heart beat a little faster!
Pisces (Feb. 19 - March 20)
Are you pining away on a secret crush? Is there an experience of unrequited love that threatens to ruin your Valentine's Day happiness? Not to worry, even if this is true you'll have an ability to focus on a higher love this year. You might choose to spend today doing something charitable to help someone in need. This might have to do with volunteering to spend the day at an elderly care facility celebrating Valentine's Day with someone who might truly feel lonely now. Your compassion will make a difference. You know better than most that if you spread love, you gain love in return.