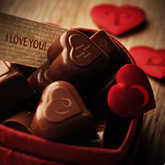 Valentine's Day Horoscopes 2012
Romance takes a deep, serious turn this Valentine's Day
Appearances can be deceiving this Valentine's Day. This romantic holiday is about celebrating the joys of love, but serious feelings are stirring beneath the surface this holiday. Flowers, chocolates and other gifts for the senses can't hurt relationships, but they aren't going to push away worries and doubts about sharing our hearts with others.
Venus, the planet of amour, is approaching a stressful 90-degree square with manipulative Pluto, which can undermine trust in our partners and confidence in ourselves.
The most useful gifts we can give now are to honestly express our concerns and to deal kindly with the fears of our partners. This will probably push away superficial smiles for the moment, but it will deepen and strengthen relationships for the future.
See the predictions for your zodiac sign this Valentine's Day:
Aries (March 21 - April 19)
It's the little things that count this year as your usually passionate ruling planet Mars is struck in reverse. This can make you nostalgic for the past, but you're better served by dealing with details in the present. Doing something useful is a great way to celebrate this holiday with Mars in pragmatic Virgo. Instead of indulging yourself with dining and dancing, why not make this a day to serve others? This probably doesn't sound romantic, but it demonstrates your generosity and compassion. Helping someone as a volunteer, friend or family member will bring a level of satisfaction that makes you feel worthy of love, enabling you to give and receive it more freely.
Taurus (April 20 - May 20)
The sweet side of Valentine's Day fits your sensual nature. The sweet smell of flowers and the taste of chocolate bring out the cuddly side of your personality. Yet there may be something off this year as you find it hard to settle down and enjoy the special day. The romance V-day represents is clouded by a stressful relationship between amorous Venus and provocative Pluto. Teasing, mistrust, jealousy or self-doubt might darken your mood. If you have a partner, seek a quiet, out-of-the-way place where you can talk about intimate matters. If you're single, it's better to be alone or with someone you trust than to seek romance under risky circumstances.
Gemini (May 21 - June 20)
Valentine's Day may start out on a sobering note as the mood-setting Scorpio Moon is in your 6th House of Adjustments until early evening -- but that's when the fun begins. A lunar shift into outgoing Sagittarius lights up your 7th House of Partners, inviting you to play loud and hard with an adventurous individual. However, you could be with a person who is feeling a little insecure, which doesn't go along with your high spirits. Recognizing that another person might not be feeling all that playful is important if you want to gain his or her trust. Don't take wounded emotions lightly, even if you don't think the issue in question is all that important.
Cancer (June 21 - July 22)
The sentimental feelings evoked on Valentine's Day are mixed with some complications this holiday. The journey begins with the Moon in passionate Scorpio and your 5th House of Romance, which sounds like a perfect formula for getting the intimacy you desire. There's a shift in the evening, though, with a lunar entry into raucous Sagittarius that can be somewhat less than tender. Insensitive remarks might provoke uncomfortable feelings. If they do, speak up firmly but gently instead of smiling while steaming on the inside. Trust requires truth, even if what's being said doesn't fit the ideal hearts and flowers model of Valentine's Day. Dealing with reality, though, is a key to making love last.
Leo (July 23 - Aug. 22)
The daylight hours may present you with some challenges as plans grow complicated and emotions may be rubbed raw. Jealousy or resentment can take the shine off this holiday's celebration of love. Fortunately, a lunar transit into enthusiastic Sagittarius and your 5th House of Romance in the evening can turn the tides in a more desirable direction. The playful and generous side of your personality should shine and make it easy for you to have a great time. However, a sensitive person might react with jealousy, mistrust or simply be in a sour mood. Finding the balance between the joy you're seeking and the vulnerability of this person is a challenge best met with kindness and a gentle sense of humor.
Virgo (Aug. 23 - Sept. 22)
Try to keep things simple today because passionate Mars is still moving backward in your sign. Returning to a place or activity where you've experienced pleasure in the past is one way to use this otherwise complicated transit. Just keeps things simple so you can limit stress and have a good time. Reconnecting with someone you haven't seen in awhile is another way to celebrate this holiday. It's possible you'll encounter loud or rude individuals in the evening. Do your best to get into the spirit of fun rather than allowing a raucous person to dampen your spirit. You might also plan for a quiet evening out or just stay home to find more peaceful forms of pleasure.
Libra (Sept. 23 - Oct. 22)
Your romantic taste tends toward the sweet side, which is what Valentine's Day is supposed to be about. Yet there are powerful emotions in relationships today that tear away the façade of politeness to get down to deeper personal issues. Your alluring ruling planet Venus is heading toward an entanglement with dark Pluto, arousing control issues, jealousy or bringing hidden issues to the surface. Passion is part of the package, and if you're willing to address uncomfortable feelings, you can turn a problem into an opportunity to get closer. The key is to be honest with yourself and then to express your desires without getting sidetracked with resentment or by focusing on the past.
Scorpio (Oct. 23 - Nov. 21)
Passion is pulsing as you seek satisfaction on deeper levels than you'll find on any Valentine's Day card. The day starts with the Moon in your intense sign, raising the stakes in the game of love. You're not into flirting or playing with people who aren't willing to commit to full-contact romance. Amorous Venus clashes with your potent ruling planet Pluto now, intensifying relationships with greater desire, but also threatening them with secrecy, jealousy and control issues. This atmosphere isn't ideal for light-hearted activities, but it could spur you to push the limits with a partner. Just do it gently so you don't go too far and wind up creating a crisis.
Sagittarius (Nov. 22 - Dec. 21)
Keeping a positive attitude is one of your strong points and a good skill to have today. That's because there are some gray skies on what's supposed to be a day to celebrate love. It starts with the Moon in shadowy Scorpio and your secretive 12th House, which may not put you in the most playful of moods. You might be happier sitting this one out or spending time in a quiet place with an undemanding person. A lunar shift into your sign would normally brighten up the evening, and it might. However, amorous Venus is bumping up against manipulative Pluto and you are not someone who likes to be controlled. If you're dissatisfied with your partner, be honest but careful with your words.
Capricorn (Dec. 22 - Jan. 19)
Knowing what you want is one of your strengths, but knowing what (and who) you don't want is equally important today. Sure, the holiday is supposed to be a celebration of love, filled with flowers, chocolates and romance. But it isn't exactly that kind of day. This Valentine's Day is better suited to talking about serious emotional issues with a friend than acting like a teenager in love. The good news is that you may be ready to discuss some difficult issues. This isn't fun, but it can be incredibly productive to cleaning up unresolved issues that frustrate you in a current partnership or in pursuit of a new one. If you do play now, it could get serious so avoid becoming overly competitive.
Aquarius (Jan. 20 - Feb. 18)
The idea of love is a wonderful thing, and something you can believe in fully. Yet the concept may not live up to reality on this year's complicated holiday. The primary issue is that Venus, the planet of amour, is tangling with Pluto, the dark lord of the underworld. This can provoke some complications that deflate the spirit of the day. But instead of trying to float above uncomfortable feelings, it's an appropriate time to dig in deeply and reflect on your desires. If they're not being met with your current partner or as a single person, a private conversation with someone you trust can help you move toward fulfilling your needs.
Pisces (Feb. 19 - March 20)
Even a romantic person like you can recognize that this Valentine's Day is more about digging deeper emotionally than an easy-breezy time for relationships. Being appreciated is a major issue, with validating Venus in your 2nd House of Self-worth bumping into scrutinizing Pluto. You probably can't gloss over uncomfortable issues, such as being disrespected or ignored. It's not pretty when discontent surfaces, but it's a heck of a lot healthier than repressing your feelings. The keys are in recognizing that you deserve love and affection without struggling for it, and that you're not a victim. Getting what you want starts with eliminating whatever behavior and beliefs get in the way of making sure you're treated fairly.