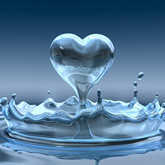 Winter Love Horoscopes
A little heat to melt your heart, even in the coldest of seasons

When the Sun moves into Capricorn on Dec. 22, winter will begin! For lovers, this season will be particularly intriguing. Since the first things the Sun does once it's in the sign of the Goat are to meet up with the generous opportunities of Jupiter and the unexpected events brought by the erratic planet Uranus, expect love spell EXCITEMENT. Read your sign's horoscope to see just how easy it's going to be to stay warm despite the brisk winds and icy chill.
Aries (March 21 - April 19)
Has it been all that bad having the restrictions and cold-shoulder feelings of Saturn in your 7th House of Relationships? Probably -- but your prospects for romantic happiness continuously improve as you monitor your reactions to the person that matters most to you. Finally, you no longer feel like it's all or nothing, and you're far more capable of making a rational choice about what feels right, what needs to be fixed, and whether you should be involved at all. If you're looking for love, this could be quite beneficial! If you're in a relationship, you can still like it, because Saturn's discipline forces your relationship to grow into a more deeply satisfying state of mutual respect. A lurch forward becomes possible when Saturn goes retrograde Feb. 7.
Taurus (April 20 - May 20)
You probably feel even luckier than usual with Jupiter in your sign, and when it goes direct on Dec. 25, plan to celebrate a whole new cycle of loving yourself and enjoying life with someone who's quite special. Pluto's presence in your 5th House of Dating and Enjoyment could provoke many meetings and lots of positive changes. The trick will be to balance out your life by remembering there's work to be done as well. If you're out on the dating scene or ready to come out of the rut you and your lover have been in for some time, the magical connection between Jupiter and Pluto on March 13 will create opportunities to transform your definition of fun.
Gemini (May 21 - June 20)
Who ever thought you'd be spending so much time fussing with family and domestic concerns? You'd much rather be cooing with your lover, running around town and kicking up the snow. A nasty and long-lived visit from Mars to your 4th House of Home and Security could make it difficult to view your domicile as a haven. Not only could relatives act up and drive you crazy; your physical home could also become home improvement hell. Mars will go retrograde on Jan. 23, so anything you sweep under the rug won't stay there for long. Deal with all the things that might need to be fixed in your home, and reconsider any decision to share a home with someone you love before you're truly ready.
Cancer (June 21 - July 22)
You'll be ready to jump into the spirit of love and make snow angels this winter, Cancer! The minute the Sun moves into Capricorn, it also arrives in your 7th House of Partnerships. If you're already set in a relationship, this means you'll be hovering over your very happy lover, starting with the holidays and going all the way through most of January in a high state of relationship bliss. If you're single, the Sun's energy could bring on a new connection that has the heart-to-heart quality about it that you crave. Then on Jan. 20, the Sun moves on to your 8th House of Sex and Sharing! You'll be ready for action that most people only dream about -- and the one you're with will be treated to the most sensuous lovemaking imaginable.
Leo (July 23 - Aug. 22)
Winter starts with a special treat for you, Leo! A visit from Venus, the goddess of love, to your 7th House of One-on-One Connections will prime your life for love. If you're already attached, your lover will be extra attentive and tender, and ready to comply with your every desire. If you're not with someone yet, the arrival of a new prospect could put that Cheshire Cat smile on your face and put a steamy spin on those long, chilly nights. The time around the New Moon in Aquarius on Jan. 23 will be excellent for starting a new relationship, or commemorating your commitment in some way. Love, loyalty and happiness are always worth a celebration. Seriously, do you really need any excuses?
Virgo (Aug. 23 - Sept. 22)
Yes, you try to make everyone believe your life is in order at all times, and you've always got your head about you. Well look out, because this winter, love is bound to sweep you off your feet one way or another! As Neptune moves into Pisces and your 7th House of Partnership on Feb. 3, your logic and discrimination could be occluded by this mighty (if flighty) planet's influence. Things aren't what they seem when it comes to your perception of others, so test out your observations before making big decisions, either in favor of or against making a commitment. Venus' move into Aries and your 8th House of Sex on Feb. 8, combined with Mercury's move into Pisces and your 7th house on Feb. 13 should help you create a wildly romantic Valentine's Day.
Libra (Sept. 23 - Oct. 22)
That serious mood you've been in for so long will get shaken up this winter when you put the focus on romance. You'll be unable to ignore the changes and fluctuations that could take place with Uranus getting settled in your 7th House of Partnerships. If you're attached, you and your partner might need to adjust to some lifestyle changes. If you're single, people will pop in and out of your life with frequency and intensity. Either way, a thrill that defies description could come your way when that little hottie Venus, your sign's ruler, meets the electrifying planet Uranus on Feb. 10. She'll keep your bed warm for you all the way through March 5.
Scorpio (Oct. 23 - Nov. 21)
No doubt you have several pots boiling on the stove of your life these days, and love could be stashed away in a quiet-but-pleasant place on one of your back burners. You can easily keep it simmering for now, but after Dec. 25 all that will change. Jupiter will go direct in your 7th House of Amorous Expectations, giving you the deep desire to dive right into a romantic fantasy. With luck, you'll have at least one prospective partner to enjoy this bounty of passion with you. If not, someone dashing could come along and create life-altering tingles down your spine. A big change for the better involving your relationship status could take place around March 13, when Jupiter gets empowering encouragement from Pluto.
Sagittarius (Nov. 22 - Dec. 21)
Winter is a time when you like to get serious about your money, the way you communicate and building a secure base from which you can later operate. But, one has to ask whether you're still playing that avoid-the-deep-commitment game. Mars will activate a lot of frustration and create more work than necessary when he spends an extended period in your 10th House of Career and Status, but don't use that as an excuse. Take little breaks that give you time with your partner, if you're already paired off. If you're single, avoid the temptation to date where you work. There are a few office romances that end happily, but so many more result in one broken-hearted person reporting to the other somewhere down the line.
Capricorn (Dec. 22 - Jan. 19)
The people who think you're not romantically inclined will be surprised this winter! You'll get your first chance to show the way you like to play when Jupiter goes direct in your 5th House of Fun and Dating on Dec. 25. Go out on the town with the one you love and don't stop dancing! Your love for someone special will be hard to hide when the Full Moon hits your 7th House of Partnerships on Jan. 9. No one is more loyal, loving and lavish with doling out affection than you are! To top this off, your bedroom will become hotter than a sauna about a week before Valentine's Day. A Full Moon in fiery Leo brightens up your 8th House of Sex and Intimacy to turn you into a full-time, fast and furious passion machine.
Aquarius (Jan. 20 - Feb. 18)
Pluto lurking in your 12th House of Unconscious Desires has an interesting effect on your love life. You might have some desires you haven't acted on ... yet. This winter, make a point of showing the one you love what it means to be in a relationship with you. If you're single, stop being so backward about approaching that person who makes your heart beat like that! You'll never know if the possibility is there unless you give it a shot. You'll express your feelings clearly around Jan. 13 when Mercury helps you find the right words, and you'll be ready to take direct action on March 14, when Mars emboldens you. Give in and show the love!
Pisces (Feb. 19 - March 20)
Mars will make sure you find out why people say love has its ups and downs. This feisty planet will lurk in your 7th House of Relationships from now through July, putting the emphasis on action, excitement -- and irritability. The one you love may not be all sweetness and light during this time period, so be patient. You're going to go through changes of your own when the foggy planet Neptune takes up residence in your sign starting Feb. 3 -- for the next 14 years! You must redefine the way you see yourself, and expect to rediscover how essential the spiritual connection you have to a partner is. Then, the hard work comes -- finding a way to express your needs without sounding like you're handing over an ultimatum.