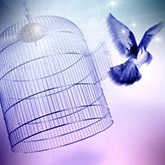 Dalai Lama Lessons
The Dalai Lama teaches freedom from suffering

The Dalai Lama recently visited Portland, Ore., for a four-day summit. His entourage stayed in the hotel below the condo where I live. A supporter of Tibetan culture, I was asked by the local Rinpoche if I could help sponsor the visit. As I wrote the check, I asked if I could just get a snapshot with His Holiness. Rinpoche replied that he thought it was possible and would see what he could do.
As the conference approached, Rinpoche asked if the Dalai Lama's cook could use my kitchen to prepare meals during the visit. I was delighted to be able to further contribute -- even after I learned his crew would be coming at 3:30 a.m. every morning to prepare breakfast and take over my living space until 6 p.m.
Tibetans streamed in and out every day, which was fine by me because I love these people. It's a wonder how refugees whose culture is being systematically destroyed in slow motion can be so cheerful, forgiving, generous and kind.
Tap into ancient Chinese wisdom with a free I Ching reading now »
Tibetans, with the enlightening example of their spiritual leader, truly understand and live out compassion, which makes them delightful to be around. Even though His Holiness never came to visit, I was honored to be hanging out with his cook and personal secretary.
The worst kind of attachment
But I was also emotionally attached -- very attached unfortunately -- to my desire for that photo, and my suffering was growing day-by-day. This was the worst kind of attachment, because it combined with a donor's feelings of entitlement. And there was nothing I could do!
The Dalai Lama was one floor away, surrounded by security, and there was no way I could get near him. So close, yet so far. (When I asked his secretary if he would take me down, he sadly grunted with a Tibetan accent "Very difficult.")
As the last day of his visit approached, I realized that my growing anxiety was an example of what His Holiness teaches about the Four Noble Truths. I was suffering, and as the second truth explains, the cause of the suffering was my craving. My involvement with the Dalai Lama was directly teaching me the central lesson of happiness! I knew the only important thing was to support his cause and that which his model of compassion and selflessness offers the world. It practically made me cry to consider that he's getting frail, that he is going to die, perhaps along with Tibetan culture itself.
Learning to let go
This is when I flipped the "let-go" switch. In comparison to the value he brings, my attachment to a photo was petty indeed. As I let go of my craving for it, I immediately felt relief from suffering, just like the third truth promises.
On the last full day of his visit, Rinpoche asked (to my surprise), "Did you get a snapshot His Holiness?" Shocked, I replied, "No … but I would love it if that can happen!" He went silent, thought for a moment and said, "Be on the 5th Floor at 7:30 a.m."
The next morning, when my turn came in the photo line, Rinpoche said to His Holiness, "This is the man whose kitchen we've been using." I added, "It made me happy to help … and the leftovers were great. Thank you." His Holiness put a ceremonial scarf on me and smiled knowingly. Snap!
See Paul's picture with the Dalai Lama »
Tap into ancient Chinese wisdom with a free I Ching reading now »