The Odds Are in Your FAVOR...
Make the most of good fortune, this rare event is ENDING soon!

Luck is in rare form right now -- but not for long! Jupiter, the planet of good fortune, will soon exit exuberant Leo, and this surge of favorable energy won't return again until 2026!
Jupiter in Leo bolsters your confidence and creativity, attracting magnificent opportunities for prosperity in ALL areas of your life! But, while this is an extremely lucky time, it's up to YOU to create your own luck! With the way the planets are aligned, you won't have to gamble much to be rewarded plenty.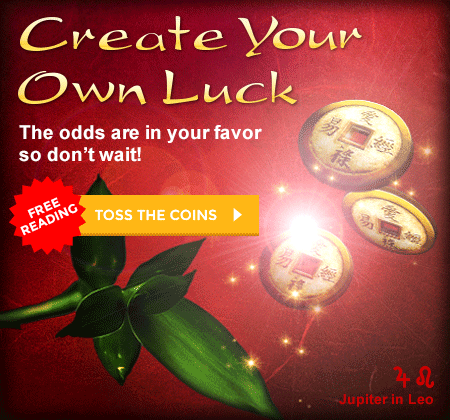 Don't just leave everything up to chance -- success and good fortune come from having clarity of what you truly want in life. A FREE I Ching reading will help stimulate your intuition and tap into the issues that are keeping you from reaching your goals and finding true happiness.
Change doesn't have to be hard when luck is on your side! Get a FREE I Ching reading now and make a more prosperous move toward the destiny that you desire. You have nothing to lose and everything to gain!