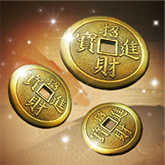 Banish Chaos from Your Life!
Save yourself from holiday madness with the wisdom of I Ching.

Wow, the buildup of pressure is overwhelming right now! As the year winds down and holiday chaos takes over, the need for stability is greater than ever. Fortunately, there IS a way to stay calm and centered...
The ancient I Ching oracle has been guiding advice-seekers for thousands of years, tapping into their intuition to help them make better decisions, have healthier relationships, and live more peaceful lives. This timeless wisdom will change your life, too!

Even though things feel out of control, an I Ching reading can help you get calm and centered quickly, so you can focus on one challenge at a time. By tapping into this ancient wisdom, you'll get the clarity and guidance you need to solve current problems and feel more confident, collected, and in control of your future.
Banish the chaos from your life! Use the power of the I Ching to turn madness into tranquility. Even better, your first (present) hexagram is always free! Toss the coins now!