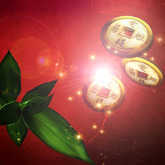 The Odds Are in Your Favor this Weekend
Take charge of good fortune as the Sun shines on expansive Jupiter this weekend.

If there was ever a time to break out of your shell and seize the day, this weekend would be it. Right now the Sun is sextile expansive Jupiter, bringing along a "Gandhi-like" broadening of your views while the Sun shines light on all the new opportunities. More simply put ... if you open your mind this weekend, luck will find you.
However, in my experience, luck never prances through the door, plops on the couch and stays there for the weekend; I have in-laws for that. The trick is to be vigilant and make your own luck. With the way the planets are aligned, you won't have to gamble much to be rewarded plenty.

Even though the cards are stacked in your favor this weekend, it doesn't mean you can't lose the game. Success and good fortune comes from having clarity of what you truly want in life. An I Ching reading will help stimulate your intuition and tap into the issues that are keeping you from reaching your goals and finding true happiness.
It's no secret -- I'm a big I Ching fan. Time and time again, it has given me uncanny advice that has, on many occasions, helped me avoid mistakes and make more conscious choices. Why not get a free I Ching reading? Or a FEW readings! You have nothing to lose and everything to gain.