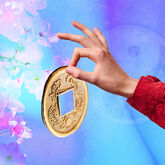 Lasting Change Made Easier
Take down the barriers of change with guidance from this ancient oracle

I'm going to say a dirty word here: routine. You may be feeling shivers down your spine right now ... unless, of course, you're a Capricorn. But guess what? I'm here to tell you that routines, for better or worse, are a choice.
I get a lot of letters from our members who feel stuck or trapped despite having tried everything to feel otherwise. The truth is, most people fail to break routines because of their unwillingness to wait out every cycle of change needed for real, lasting transformation. So how can you make sure you don't fail?

Life, decisions or relationships -- no matter what kind of routine you feel trapped in, the I Ching can provide a clean slate. This ancient Chinese oracle helps you center yourself so you can truly focus on one challenge at a time. It offers advice that consistently rings true and catapults you to the next cycle or challenge ahead, helping you toward lasting success and transformation.
Hey, we're coming up on something new: May! Now is the time to make the changes you want for the future. Clear your path and set your intention for the month ahead by getting advice from the I Ching at no charge.