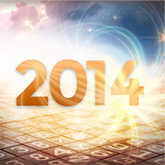 11/12/13... Are You Ready for 14?
Today's rare date is a sign -- take your next step with Numerology.

There's no time like the present to look into your future. Today is 11/12/13 ... and this rare sequence won't happen again in your lifetime! You don't want to miss this opportunity to see what's coming next.
When you know what lies ahead, the fog of confusion clears, the fears diminish, and the challenges can't knock you off course. Knowledge is power in 2014.

A personalized 1-Year Numerology Forecast shows you just how your numbers will impact your life next year. Using your unique birth info, this report delves into the meaning of all your numbers during this exact year in your life. You'll even get daily predictions for the entire year, customized to your number cycles for incredible accuracy!
So count on Numerology today while the numbers are aligned! Start adding up your new year now with a 1-Year Numerology Forecast. Or get this complete forecast for no cost at all through a TrialPay partner offer.