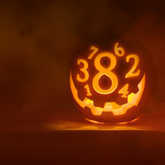 Let Your Hidden Passions Shine
Find the fire deep inside of you with this...

Halloween doesn't come alive until the jack-o-lanterns begin to glow ... and the jack-o-lanterns don't begin to glow until the flame inside them is lit. Do you know what lights your inner fire? Based on the vibration of numbers, the ancient art of Numerology is a wondrous way to decode your personal mysteries and reveal your strengths and talents. Truly come alive this Halloween with a Numerology Personality Profile reading!