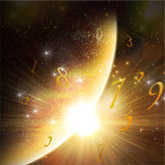 It's the Luckiest Day of the Year!
The Sun and Jupiter are teaming up to deliver good fortune

Jupiter is the luckiest planet of all, and right now it's meeting up with the warm Sun to skyrocket your levels of luck and fortune! This only happens once a year, so don't let this moment pass you by. Discover where your luck lies over the next 365 days with a personalized Numerology Lucky Numbers Advisor report. You can also get your report for nothing, thanks toTrialPay.