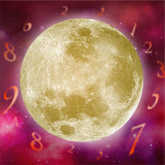 Don't Be a Full Moon Fool!
Find out if your Valentine will add up to zero ... or infinity!

Don't be fooled by the romantic Full Moon in Leo on Valentine's Day! We're being misled from reality by Mercury Retrograde and the Moon's tense square to Saturn, which darken this day of love with shadows of doubt and romantic delusions. You'll need to stay sharp so you don't get tricked by love.
Whether you're single or in a relationship, romance is especially confusing right now. You need to be careful or you could wind up with a broken heart. Use powerful insight to find out if your love will add up to something special, or if you're just fooling yourself. Here's how…

The Numerology Compatibility report is a foolproof way to analyze both partners' Life Path, Expression, Heart's Desires and Personality numbers, and uncover all the little details that can hold your love together or blow it apart. It also forecasts how your relationship will grow in the year ahead ... or if you should get out before you get hurt!
Shed the light of truth on your love life with a Numerology Compatibility reportto avoid heartache, and make Full Moon magic this Valentine's Day! You're no fool -- you can even get this romantic reading at no cost when you use TrialPay.