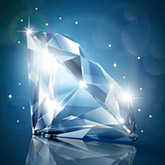 This Is Worth More Than Diamonds...
Get precious insight to nurture your soul with Numerology!

"You need to take care of yourself." You probably hear this all the time, although most of us would agree it's easier said than done. Sometimes you're so busy managing your responsibilities and tending to your loved ones that you forget about your own needs. But today is the exception...
Thoughtful Mercury is moving into nurturing Cancer, which means the cosmos are urging you to give yourself a big dose of TLC! This is a time for crystal-clear reflection on how to strengthen your mind, heart and spirit. You deserve all that life has to offer, and we are committed to making sure you get it...

The extraordinary Numerology Diamond Report employs one of the most powerful devices in Numerology. It takes your personal numbers and arranges them in the shape of a Diamond with four points: your Challenges, Root, Action Key and Outcome. Using your name and birth date to connect each point, this report reveals how the things you are doing currently fit into the overall pattern of your life. You'll shed light on your personal journey, and learn how to take better care of yourself by making the right choices.
Discover how to give your soul what it needs to be happy and flourish! Start your Numerology Diamond Report now and gain the self-knowledge to self-nurture. You can also get this bright insight at no cost when you use our TrialPaypartner offer.