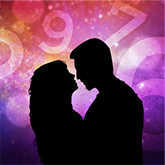 Do This Before You Get Carried Away...
Add up your chances for lasting love as Venus and Jupiter make a harmonious alignment.

You know that euphoric feeling of falling in love? It's easy to get carried away when you meet someone you think you could have that with. It could even happen today as Venus and Jupiter make a love connection that can sweep you up in romantic bliss. But watch out, there's a catch!
When the planets of love and luck pair up like this, you could feel so optimistic about your love life that you lose touch with reality! So before you rush into romance, find out if it's too good to be true or if your love is something you can count on.

The Numerology Compatibility report is a foolproof way to analyze both partners' numbers, uncovering all the details that can hold your love together or tear it apart. It also forecasts how your relationship will grow in the year ahead ... or if you should get out before you get hurt!
Get your Numerology Compatibility report now to find out if your numbers add up to lasting love. Only then can you let Venus and Jupiter carry you away!