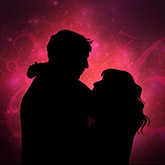 Your Last Chance Until 2022
Today's date is full of loving, caring energy -- there's no better time for your Numerology Compatibility report!

Today's date is 6/6, and in Numerology, the entire year 2013 is even represented by the number 6! The 6 wants, above all else, to love and to be loved. After all, the most generous and mutual partnerships are the ones that really last. So don't miss out on this big burst of loving "6" energy ... it won't happen again until 2022! Get your Numerology Compatibility report now to find out if you and your partner's numbers add up to everlasting love. Or get it at no cost when you use TrialPay.