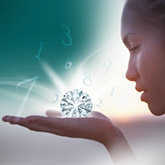 These Numbers Define Your Life...
Use Numerology to illuminate your spiritual path!

The same thing that makes a diamond twinkle can make you sparkle, too -- individuality! And right now, while Neptune is in Pisces, the most spiritual sign of all, you have the chance to fully connect with your unique strengths and wisdom ... if you can see how your patterns connect.
Patterns are all around us, especially in Numerology, and they add up to defining your roles and experiences in life. Before you can live up to your divine potential, you need to find confidence and understanding in both your head and your heart. So put a plan into action and...
The Numerology Diamond Report unites your mind with your soul for a complete picture of you, at any age in life. This report hones in on your challenges, internal issues, and actions you can take to shape your future for the better. Using your name and birthdate, this report lets you choose any age in your life to discover knowledge about your soul's past and future.
Make the most of your unique place in this world, and within yourself! Get your Numerology Diamond Report while the connected energy of Neptune in Pisces is abundant.