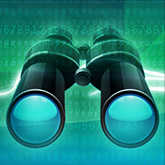 2014: See Why "7" Is Your Number!
Get personal Numerology predictions for the next 365 days

2014 is going to have a very different energy than 2013! In Numerology, we're moving from a "6" year to a "7" year, which means it's time to stop worrying so much about others and start taking better care of yourself.
7 is a powerful number. It's the spiritual, soul-searching seeker of truth. And you can draw from this deep energy of the 7 to live a more meaningful life in 2014! Start by using Numerology to predict your own personal patterns and prepare for the entire year ahead.

To ensure you're successful in the new year, get your personalized 1-Year Numerology Forecast now! Written by Master Numerologist Hans Decoz, this report shows your path over the next 365 days. Each report is unique to your name and birth date, offering day-to-day and month-to-month predictions for the cycles you'll experience in 2014.
Count on your 1-Year Numerology Forecast to diminish the twists and turns ahead so you can find more meaning in 2014. And if you like numbers, then you'll love this one: zero ... which is how much you'll pay if you take advantage of TrialPay.