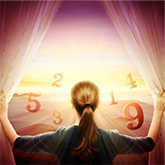 9/9: Don't Miss Out!
Discover the profound impact numbers have on your unique life through Numerology.

Have you noticed today's date is 9/9? The number 9 is all about humanity, and our own identities as people. So today's extra boost of numerological energy creates a prime time to experience amazing revelations about yourself!
Numerology is a science based on the meaning of numbers, which create patterns and energies within you. Understanding the influence of the numbers you were born with can bring greater ease and direction to your life.

The Numerology Personality Profile is the most extensive Numerology report we offer. You'll learn how your unique numbers impact your life, health, love, money and more. And with a look at your future Numerology cycles, you'll get guidance into tomorrow, too!
Take advantage of today's potent Numerology and get to know you on a more personal level!