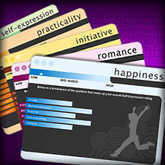 You Can Have It All!
Bring your hidden potential to light with a Numerology Talents Profile

We all want the most out of life. But you can't live up to your full potential if you don't know your true calling! Numerology helps you take that first step. By visually cataloging your personality traits, relationship tendencies and more, the Numerology Talents Profile uncovers your strengths and shows you how to use them. Be the best version of yourself -- no one can do that better than you!

Don't forget that you can get this report at no cost thanks to TrialPay!