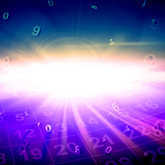 A Pattern Is Unfolding While Mars Is in Capricorn
Powerful energy lets you see where things are headed by revealing what the universe has planned for you in the next 365 days.

The universe doesn't always make it easy to predict or prepare for the future. But if you listen closely and at the right time, you can actually see the patterns that are powering the universe. Right now, with action planet Mars entering hardworking Capricorn, it's one of the best times to try to make sense of the year ahead.
This planetary energy will make it easier for us to tap into the order of the universe in a concrete way -- and with real results! Believe it or not, Astrology isn't the tool to use today. Nope! For this practical and powerful surge of energy, Numerology's mathematical take on destiny is the best way to get the answers you're looking for. Here's how it works...

A personalized 1-Year Numerology Forecast by world famous Numerologist Hans Decoz uses your unique birth date, name and the dates of the year ahead to locate patterns, including your pinnacle periods, challenges and more. You'll also get a numerological prediction for each day in the year ahead. That's 365 days of advice and insight!
Make the year ahead meaningful by anticipating the patterns unfolding with your detailed 1-Year Numerology Forecast today. And if you're looking to save money this upcoming holiday season, get this report at no cost when you buy any one of the multiple products offered with TrialPay.