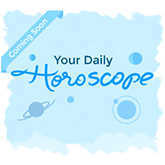 It's the New Daily Horoscope Newsletter!
The email newsletter you love has a brand new look

If you subscribe to the Tarot.com Daily Horoscope newsletter (which many of you do), you're in for a sweet surprise!
We're rolling out a redesign to give the newsletter a fresh look and feel, plus new content so it's easier than ever to get all the horoscopes you want in one convenient place.
We're especially excited about this because while Tarot.com has been through many site redesigns over the years, our Daily Horoscope newsletter hasn't had a new look in a long time. And we believe change is a GOOD thing!
Now, we're happy to announce the newsletter has a cleaner design that's easier to read, fewer ads and playful splashes of color. You'll still get your daily horoscope, Tarot card, Daily Number and Psychic Tip of the Day, but that's not all.
Here are some of the new features of the Daily Horoscope Newsletter:
Easier navigation so you can find horoscopes and links quickly
A new logo and smaller banner

A new photo of that handsome devil, Rick Levine
Your Daily Love Horoscope is now included
Personalized use of your zodiac sign character
If you're already signed up to receive the Daily Horoscope Newsletter, you'll get the new version between now and October 15, 2013. If you're not signed up, what are you waiting for? Tell your friends and sign up here.