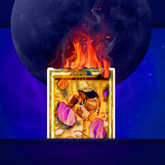 Tonight's New Moon: Too Hot to Handle?
You're finally emotionally ready to take on those fiery relationship issues...

Today's New Moon in fiery Sagittarius may have you expecting a day of emotional flare-ups and passionate debates. But hold up! We're talking a NEW MOON ... as in, the start of a new lunar cycle. This is when the Moon's energy is normally as calm and balanced as it gets. So what will the Moon do with all that upbeat Sagittarius energy?
Today is the only day this month that we'll be in this confident head space to tackle potentially heated relationship issues. The Sagittarian optimism helps us see the potential for positive changes, while the New Moon keeps us moving forward. But we can't rely on the planets alone. To make sure you get your issues resolved with the least amount of drama, you'll want to use this...

The Burning Question Tarot reading was created to address these emotionally-charged issues. Not only does this 7-card spread help navigate your fiery emotions, but it taps into the energy of the other person's as well. As you pick your cards, you can use the New Moon's settling presence to clear your mind, and see relationship issues for what they truly are.
So let this Sagittarius New Moon fire you up, then use a Burning Question Tarot reading to cool you down and find greater balance in your relationship today. Or get to the bottom of things at no cost when you use our TrialPay partner offer.