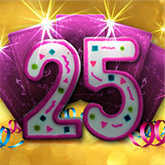 Happy Birthday, Tarot.com!
We're celebrating you, too, as Tarot.com turns 25

As Tarot.com celebrates its 25th birthday on June 15, 2013, we also are celebrating all the loyal support and love we've received from our members through the years.
In fact, as a thank-you birthday gift to you, we're giving Free AstroSync reports to everyone who logs on to Tarot.com on Saturday, June 15. AstroSync, which lets you see how your Astrology aspects are meshing with others at any time, will be free until midnight PDT / 3 a.m. EDT on June 15. Join the celebration and get your Free AstroSync report this Saturday!
Tarot.com's founder Paul O'Brien wasn't afraid of hard work. Working his way into a high-powered job in the early days of personal computers, Paul's passion for the I Ching merged with his love of technology quickly.
In 1988, Paul quit his management job and -- like every passionate entrepreneur -- he rustled up credit cards, sold his car, lived modestly and pursued his dream: To create Synchronicity, the first interactive divination program available for the early Macintosh Classics!
He had no idea his inspiration to put his favorite decision-making tool on a 3.5 floppy disk would eventually give birth to Tarot.com and an online community serving more than 10 million divination enthusiasts alike!
Today we celebrate the birthday of Visionary Networks, the founding company of Tarot.com and Daily Insight Group. But even more importantly we are celebrating our members like you.
We wouldn't be celebrating this milestone if it weren't for our loyal members who helped shape and grow this company into a destination for people to come and find feelings of hope and renewed spirit.
We have had speed bumps along the way, and technology keeps us on our toes, but our members keep reminding us why we do this -- we make a difference in the world by translating these timeless divination art forms into modern content.
We know that if we can create something that helps even just one or two people find the insight, angle or perspective they needed at that moment, we've done our job.
So this birthday is for all of us. We couldn't have done it without you!