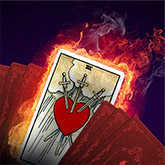 Get ready for a shock to your love life...
Lovers need damage control while Venus is in Aries

Today the love planet Venus enters the aggressive sign of Aries. This combo is the perfect mix for amplifying romantic conflicts, so be careful! You might take it out on the one you love.
During this time, even a little thing could spark a blow up. Don't get burned! Take care to prevent relationship issues and fights before they happen...
The Burning Question Tarot reading was created to defuse emotionally-charged issues. Not only does this 7-card spread help navigate fiery emotions, but it uncovers the issues each person is facing in the relationship and provides advice for disarming arguments.
Relationships are precious, so don't let trivial fights cost you the love of your life. The Burning Question Tarot can provide you with valuable insight to make your love stronger than ever.