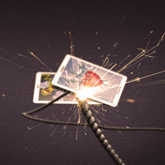 Venus square Pluto: A Hazardous Time for Relationships
This amazing Tarot spread can guide you through this challenging relationship aspect...

Heads up! Your love life may be in jeopardy. Venus, the planet of love, is squaring off with mysterious Pluto, making deep-seated issues and resentment boil to the surface. This intense energy could cause you to nitpick or take cheap shots at your loved ones.
The feelings that come out of these conversations put stress on your love life. And more often than not, careless comments lead to explosive arguments. So how can we keep from falling victim to this menacing aspect? Think before we speak! And by that I mean get your head on straight and know what your lover is thinking with this...
Unlike any other reading we offer, the Burning Question Tarot allows you to tap into then energy of BOTH lovers. This 7-card spread offers answers to the current and future challenges you'll face, as well as advice to move forward. It's the perfect tool for disarming volatile love challenges. You will have a chance to clear your mind, work through those nagging insignificant issues, and get to the real heart of your relationship.
Defuse this potentially explosive Venus-Pluto aspect! Keep your focus on the parts of your relationship that really matter with a Burning Question Tarot reading. And if you'd like, you can get this at no cost when you take advantage of our TrialPay partner offer!