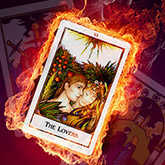 How will you know ... if you don't ask?
Venus in Leo is waiting to answer your burning love questions

Love planet Venus is in Leo, the bold sign of playfulness and affection. There's no reason to hold back on sharing your love with someone special right now, and to help you express your feelings for one another, we've created a love Tarot reading called The Burning Question. It's a one-of-a-kind Tarot reading in which one or two people ask the cards about a romance issue. With the cards you picked forming the shape of a flame, this love Tarot spread can answer your relationship questions and help express your love for another. You can also get this reading at no cost by using our TrialPay partner offer.