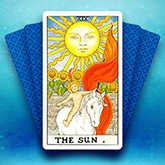 NEWSFLASH: It's Your Lucky Day...
Create your own good luck where you need it most!

Good luck doesn't just happen! It's not just about being in the right place at the right time. After all, you know what they say: "Luck is what happens when preparation meets opportunity." So, if you have the right tools to make it happen, your opportunity is NOW!
To create your own luck, consider where you need favorable changes in your life the most ... then focus your intention and make things happen! Whether you're hoping for improvements in your relationship, your career or your physical well-being, we've got you covered...

The Celtic Cross Tarot reading is the foremost spread because it prepares you with insight about every aspect of life! This 11-card spread helps you gain better understanding of your Foundation, Higher Power, Challenges and -- best of all -- your Opportunities. By preparing to meet your Opportunities with insight, you'll have no doubts about how to proceed to get the luckiest results!
Why wait for luck to come along when you can create your own? Start your Celtic Cross Tarot reading now and position yourself for good fortune! Remember, you can also get this lucky reading for FREE with our TrialPay partner offer.