EXHALE: Something Beautiful Is Waiting...
A powerful message that could change everything!

All Tarot decks are NOT the same. For the best results in a Tarot reading, you need to choose a deck that really resonates with you personally. Morgan-Greer Tarot is a favorite among our staff here at Tarot.com, because it's emotionally charged with lush imagery and strong symbolism that really speaks to us.
The bold aesthetic of this deck was designed to elicit a compelling sense of curiosity -- a feeling that must be present for you to get the most of your Tarot reading. When you are interested, you are open, and THAT emotional response is exactly how Tarot connects with your intuition. Find out how the powerful imagery of Morgan-Greer will affect you...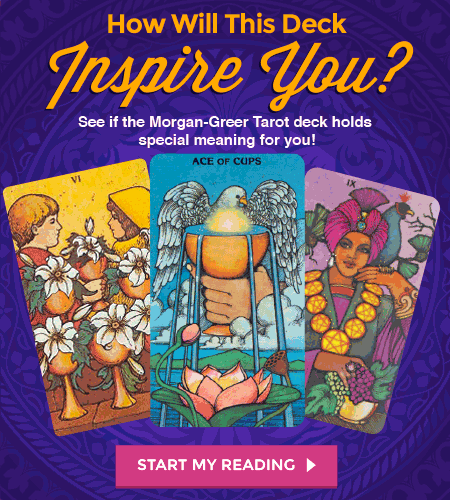 The Celtic Cross Tarot reading is the perfect spread to use when you're trying a new Tarot deck because it covers all aspects of your life. This 10-card spread helps you gain understanding of your Foundation, Higher Power, Challenges and (best of all) Opportunities. With this comprehensive spread and Morgan-Greer's strong symbolism, you'll tap into your hidden thoughts, feelings and truths with astonishing accuracy!
Try a Celtic Cross Tarot reading with the Morgan-Greer Tarot deck now, and see if it's the best Tarot reading you've ever had!