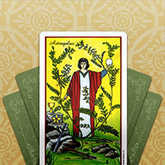 New Opportunities are Possible Now
The communication planet Mercury moved into abundant Taurus, proving you with endless possibilities.

Nowadays, who couldn't use a moment to exhale? Life races by with little opportunity for us to slow down. And forget about having time to think issues through. Usually there's only time to react and get things done. Fortunately for all of us, change is in the air.
Mercury, the planet of thought and reason, has moved into the grounded, stable sign of Taurus. This planetary transit is perfect for slowing down and gaining a fresh perspective. The trick is to keep an open mind now so you don't miss out on the possibilities coming your way.
A Celtic Cross Tarot reading is your very best bet to stay grounded and find peace, even in these hectic times. The Celtic Cross has been used for centuries as THE go-to Tarot spread, helping you align every facet of your life at this exact moment and offering a fresh look at your unique situation. This reading provides wisdom you can apply to any part of your life: love, health, family and career.
Use the combined energies of Mercury in Taurus and a Celtic Cross Tarot reading to realize new ideas and solutions you never considered before.