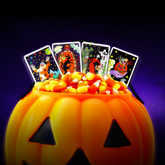 Trick or Truth – the Tarot answers Your Halloween Questions!
Use the Celtic Cross Tarot reading to get in touch with your spiritual side this Halloween

Happy Halloween! At Tarot.com we LOVE Halloween? Why? Duh ... because there is no better night to tap into the spirits, messages and ghosts of our past than on Halloween! Plus, tonight's celebration falls just in the shadows of a Full Moon -- making it even more emotionally charged.
Well I can't promise goblins and ghosts but I can promise an encounter with a powerful force ... your own subconscious! The universal magic of Halloween is certain to stir up unsettled energy, but it's up to you to listen more closely and uncover messages from beyond the surface of your mind. Here's the trick ... and the treat...

The Celtic Cross Tarot reading is the best reading to do on Halloween. Not only is it one of the oldest and most iconic spreads of the 20th century, it's designed to tap into unresolved and haunting questions. This 11-card reading helps you channel your energy into a specific issue while revealing the deepest corners of your intuition. There is no trick … only treats. You'll get advice and answers from spirits within you.
So tonight, skip the candy and give yourself a treat unlike any other ... get a Celtic Cross Tarot reading now.