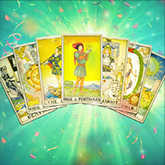 This New Moon Is Good News!
Use this special New Moon to get a head start on 2014.

Whether you call them resolutions, goals, or intentions, we all start the New Year with the hope of gaining more happiness, health, and prosperity in the future. And good news -- we're getting a planetary head start.
The New Moon in Capricorn on New Year's Day brings a powerful combo of clarity and resolve, making it easier to decide what to leave in the past and what to carry with you into 2014. And with our most popular Tarot reading on sale for 50% off, we're making it easy to start the year off right.

Make the most of this special New Year's New Moon with our Celtic Cross Tarot reading at 50% off. This premium 11-card spread is the most popular reading we offer. Why? Because it was designed to tap into all facets of your life -- love, career, health and more. Coupled with the Moon's helpful Capricorn energy, you'll have no questions about how to proceed in the year ahead.
Use this New Moon to shift into a new gear with a Celtic Cross Tarot reading ... you can't go wrong at 50% off! Remember, you can also get this reading at no cost with our TrialPay partner offer.