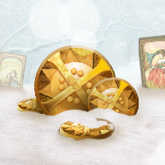 The Twelve Days of Tarot
A new holiday classic

The song "The Twelve Days of Christmas" tells the story of a "true love" bringing gifts. Well guess what? This year, your true love is ... YOU! And you're going to give yourself the most important gift of all: 12 consecutive days of happiness. How? It's one of the most popular tools in the Tarot community, and we want you to try it for 12 days, and for up to half the price...

Much like reading your horoscope each morning, hundreds of thousands of people have adopted a daily Tarot reading practice. You'll be surprised by the ways that foresight and clear intentions can help your ability to navigate your day. It takes only a few moments, but it can redefine how you feel all day.
This holiday set aside 12 days to try this life changing benefit. For only $1.50 a day, you can get our popular Classic Daily Reflection Tarot reading. AND if you buy a Karma Coin package, you can save as much as 50% off the listed KC price. See for yourself how, with a little extra focus and clarity, you can better navigate the ups and downs of one of the most stressful times of year.
Happy Holidays,
PS. Don't forget ... you can get 100 Karma Coins for FREE when you take advantage of one of our partner offers from TrialPay. Learn more!