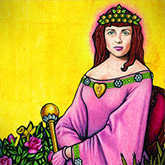 Advice from a Wise Woman
To have family harmony this Mother's Day you must first...

Mother's Day is upon us! And with it comes all the memories and emotions -- good, bad, happy and sad -- that we attach to the matriarchal figures in our lives. How you feel about your mom impacts who you've become today, for better or worse. We will always have those motherly influences, but you can use these experiences to shape your future positively!
This weekend is a perfect time to reflect on your family dynamics, past and present, to bring peace into your life. No amount of flowers, gifts, or avoiding the whole thing will provide the relief you need. So skip the Mother's Day card and go straight to the TAROT CARDs ... here's how!

A Family Celtic Cross Tarot reading offers special insights you can use to gain perspective on your family. This 11-card spread reveals the influences of your higher self, and your unknown internal obstacles. You have the power to create inner peace for yourself ... you deserve it.
So before you pick up the phone, go out for brunch, or hide under the covers, take a moment to reflect on how you can make today more meaningful. Use a Family Celtic Cross Tarot reading to bring harmony to your life. And if you take advantage of our TrialPay offer, your reading won't cost you anything.