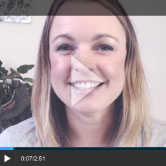 Monthly Tarot Card Forecast: January 2017
Balancing your inner and outer worlds

Hi I'm Brigit, founder of Biddy Tarot. I'm here today to share with you the Monthly Tarot Forecast for January 2017. So we're going to have a look at our Blessings, our Challenges, and our Recommended Actions to make this the best month ever. Let's get straight into it!
Blessings card: Queen of Wands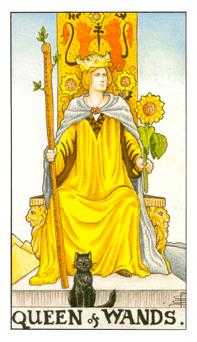 So the first card I have is the Queen of Wands, so this is your Blessing for January. I love the Queen of Wands. She is confident, outgoing, friendly and warm. She's the type that you'd like to meet at a party, because she'd always make you feel welcome. And she is often quite the life of the party as well. So your Blessing this month is that you have this beautiful confidence within yourself. It's not like a cocky confidence or anything like that, this is just a beautiful, warm glow that you exude when you're interacting with others. So expect lots of socializing, and a lot of just feeling great about putting yourself out there.
Challenges card: The High Priestess reversed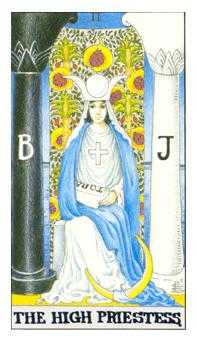 Alright, so what are our Challenges for this coming month? We have The High Priestess reversed. I find that The High Priestess reversed can sometimes be about neglecting our inner selves. It's really interesting when you put this against the Queen of Wands, because when you're so busy putting yourself out there and really giving yourself to other people, sometimes you can forget about what's really going on within you. So, these two cards are really asking you to balance the self that you're presenting to others, which is super bubbly and confident and sparkly, versus the self that you have within you.
You might just find that in January you just need to have that little bit extra effort to nurture your intuitive self and your real, authentic self a little bit more. So whether it's just taking some time out from your busy social schedule and perhaps even journaling, playing with your Tarot cards, or just connecting with yourself and your intuition, that might be all that you need so that you can reconnect with this High Priestess energy.
Recommended Action card: Six of Cups reversed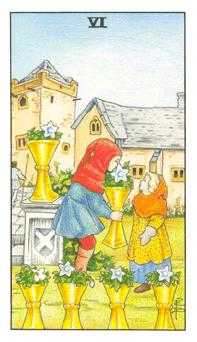 Alright so our third card for this month is the action that you can take, and here we have the Six of Cups reversed. Now, the reversal of this card shows that this energy is being brought within you. The Six of Cups is kind of a really nice, playful card. So, when I'm looking at this partnered with The High Priestess reversed, what I'm sensing is that you need to spend a little bit more time with yourself, just having fun, doing fun things. Maybe it's some art hobbies, crocheting, knitting; maybe even just playing with your kids, or experiencing your life as if you were a kid.
Overall messages
So there you have it! That is the Monthly Tarot Card Forecast for January. We're looking at lots and lots of socializing and putting yourself out there, but also remembering to honor your inner self, and make time to connect with your intuition -- of course Tarot cards will always help with that. And then, finally, make sure you keep accessing your inner child, you remember to have fun, you remember to play, and it might just be that playfulness in your own personal time or your own private space.