Your Monthly Tarot Card Forecast: September 2017
Finding your own rhythm

Hi I'm Brigit, founder of Biddy Tarot -- I'm here with the Monthly Tarot Forecast for September 2017!
As always we'll be looking at the Blessings, the Challenges, and the Recommended Actions for this month. So let's just get straight into it...
Blessings card: Ten of Cups reversed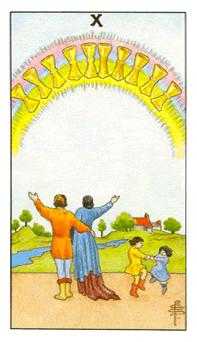 The Blessings this month are represented by the Ten of Cups in the reversed position. This is really a card of transition and the change process -- there's always death, but there's renewal. In order for new life to begin, we have to flush out much of the old stuff that has been going on. In the reversed position, this is happening on quite an internal level. So during this month, what you mind find is that there's a lot of releasing going on. It's a Blessing! So you're going to do well if you release what is no longer serving you. What is the stuff that's already started to decay, and how can you let that go? For you to be able to fully embrace those new opportunities, what can you do to cleanse out the old aspects of your life?
Challenges card: The Magician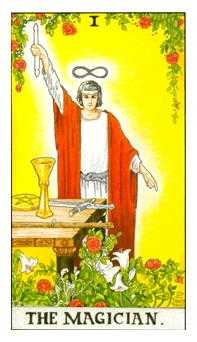 This month we have for the Challenges, The Magician. What I picked up intuitively from this card was: This man is playing his drum and I heard in my mind that this is about what is beating your own drum. This really spoke again to this concept of honoring your inner truth. What is your beat? What is your rhythm? What is it that you need to be expressing into this world that is coming up as a challenge for you right now? What's getting in the way of you really being able to bang this one out, really get your message out there? That is your Challenge and of course your opportunity for this month.
Recommended Actions card: The Tower reversed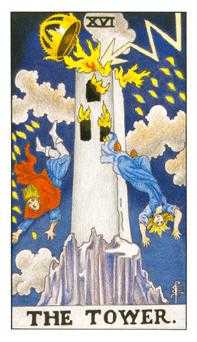 Let's move into the Recommended Actions for the month ahead. This would be your Tower card. With this card, this is really about an intrinsic shakeup. Because the card is reversed, the energy is happening on an internal level. With this card, it's kind of like, what is this big bolt of lightning that is coming to you on a very personal, deep, and profound level?
I would say it has a lot to do with what we're seeing in the rest of the cards! One, you may be having some big realizations about what needs to be cleared out of your life so that you can embrace those opportunities, and two, you may be having some big revelations about what your true message is and what it is that you want to express in this world and manifest and create.
The Tower card can often feel very disruptive when you have these big insights. You're like, "Oh holy moly, do I really want to make all of these big changes? Am I really ready to embrace what's coming to me?" But the opportunity with this is huge. Yes there's a big shakeup. Yes you have to change a lot of things in the way you're doing things right now. But the opportunity is immense, and that is what you are being called to here.