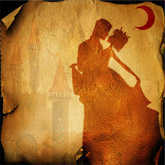 Get Swept Away by the Aries Moon this Valentine's Day
Venus and the Moon align in the name of love this Valentine's Day ... will you be ready for it?

I have some sweet planetary news for you this Valentine's Day! Love planet Venus and the frisky Aries Moon are coming together for a magical moment to create the chance for everlasting love!
Right now Venus is sextile the fiery Aries Moon, which inspires love, passion and fairy-tale romance on this red-hot holiday. But to make this Valentine's Day energy last forever, you need to act on this rare and magical Moon! Let me explain...

In order for this loving energy to last, you'll need more than a feeling ... you need the whole story! Inspired by treasured fairy tales, Happily Ever After Tarot explores the past, present and future of your own lover's tale. Each of the seven cards reveals an important clue to transforming your holiday romance into a forever love story!
This is a very special Valentine's Day for getting swept away by love! Don't miss this chance to make your fairy-tale ending come true with Happily Ever After Tarot.