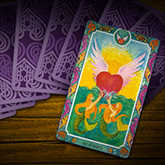 THIS Is As Good As It Gets...
Venus won't make this intimate connection again all year!

Pay attention to this true love story: Venus is moving into Pisces, its most positive position for romance -- and it won't be here again until next year! Venus is "exalted" in Pisces, which is the best placement of all for maximizing your love and relationship potential.
Of course, with the love planet at its most powerful now, you also run the risk of getting too carried away by unrealistic fantasies or falling for the wrong person. This is a time when it's extra important to be sensible with your heart! Here is the best way to make that happen...

TheHappily Ever After Tarot readingis the best tool to use when you want to write the next page in your own love story. This exclusive spread by Tarot scholar Isha Lerner combines the romance and magic of fairy tales with real-life relationship insights. Your reading explores the past, present, and future of your love's path, helping you understand all the complexities of your love life in pure and simple terms.
Remember, Venus in Pisces is the greatest true-love opportunity you'll have this year! But this potent energy won't last long, so get your Happily Ever After Tarot reading now. You can even get this romantic reading for free with TrialPay.